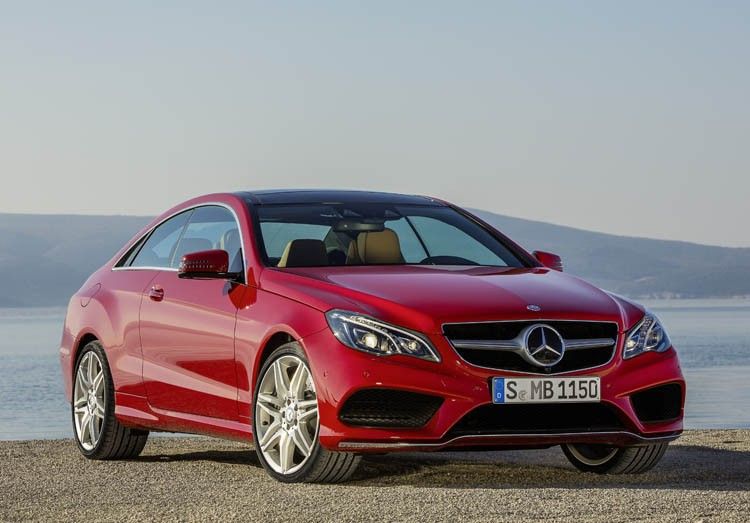 Photo Courtesy of Mercedes-Benz
Just a few weeks ago Mercedes-Benz released its latest E-Class sedan and wagon. Long considered the benchmark in its class, the new E-Class represents a significant new debut for the German automaker, one that will account for a large share of the prestige carmaker's sales. That in and of itself would be enough to keep most companies busy for a while, but Mercedes-Benz is not most companies. So following the debut of that new family-size luxury automobile, Mercedes has followed up with new versions of its svelte E-Class coupe and convertible.
Set to debut this week alongside its four-door counterpart, the new two-door E-Class fills a slot once occupied by the long-since discontinued CLK. And fills that void it does with considerable style and luxury.
The new E coupe and cabrio adopt many of the changes applied to the sedan and wagon, but give up some extra space for some added swagger. That means a restyled front end with twin shapely headlamps replacing the four individual cubes, copping a V-shaped front bumper that now features larger air intakes for a more aggressive, athletic look. The powerful rear fenders carry over, leading to a restyled rear end similar to the sedan's.
The interior has similarly been updated, with an analog clock mounted in the center of the dashboard and the shift lever moved from the center console to the steering column to unencumber the larger cupholders. The cabriolet also offers a better-insulated soft top, with the Aircap system reducing wind buffeting and Airscarf blowing warm air onto driver's and occupants' necks to keep them toasty when driving with the top down in less than hot weather.
Of course the new E-Class coupe and convertible also benefit from Mercedes' considerable array of cutting-edge safety technologies and driver assistance systems. Customers in the US will be able to select between the E350 with 3.5-liter direct-injection V6 offering 302 horsepower and available with 4Matic all-wheel drive, or the E550 with 4.6-liter twin-turbo V8 offering 402 horsepower, both mated to a seven-speed automatic transmission. Deliveries will commence in the summer, by which point full pricing details will be available, but in the meantime, the new E-Class coupe and cabriolet will debut at the North American International Auto Show in Detroit this week.