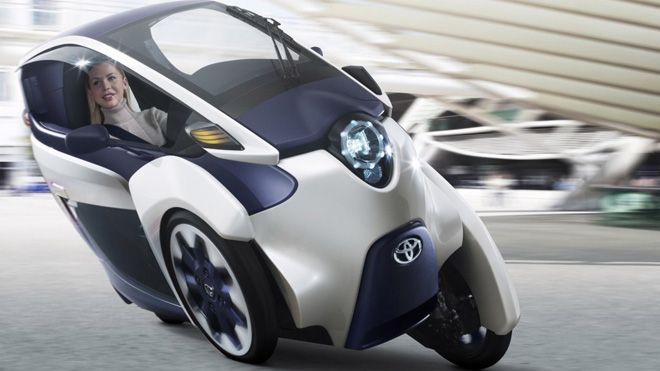 Photo Courtesy of Toyota
Looking like it's straight out of a science fiction film starring
Tom Cruise
, Toyota's strange i-Road concept car was unveiled last week at the
2013 Geneva Motor Show
. The three-wheeled electric design definitely looks strange compared to the autos we're used to seeing on the roads but if Toyota delivers on its promise of safety and money-saving perks, we may be seeing this in urban environments soon.
According to
Fox News
, one of the design's coolest features is the "Active Lean" system, which is meant to automatically balance the little car when it corners or deals with rough terrain. It's also apparently easy to drive by relatively anyone and can fit two people sitting tandem — without helmets, no less. The i-Road's electric drivetrain will give drivers a range of around 31 miles on one charge, with a top speed of 28 mph. A pair of 2-kilowatt (2.7 hp) electric motors (which power the front wheels) are powered by a lithium-ion battery, taking around three hours to fully charge on any standard outlet. With those numbers,
Toyota's
concept car is obviously intended for city streets and with the popularity of Smart Cars nowadays, the i-Road doesn't seem far off.