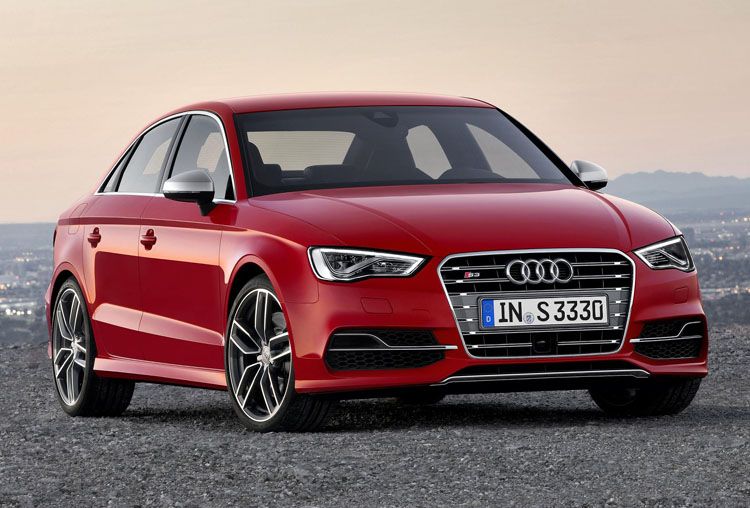 Photo Courtesy of Audi
Luxury is getting smaller. Where buyers once correlated large with upscale, more and more — in Europe especially — have begun demanding smaller vehicles that can better negotiate crowded city streets (and gas-pump prices), without skimping on the accoutrements. It's a trend that drove BMW to produce the 1 Series, Audi the A1 and A3,
Mercedes-Benz
the A-Class and Lexus the CT200h, to name a few. But those are just starting points for these upscale automakers which are rapidly downscaling the size of their entry-level vehicles.
Photo Courtesy of Audi
Where there are smaller luxury cars, there will be pint-sized performance versions as well. That much became increasingly evident this month when two of Germany's most vaunted high-end automakers revealed their smallest performance sedans yet.
For
Audi
, that took the form of the new A3 sedan. Based on the existing A3 hatchback, the A3 sedan is targeted at North American and Far Eastern buyers who expect their luxury cars to have proper trunks instead of liftgates. Measuring the same approximate size as the original A4 prior to decades of expanding volumes, the A3 sedan will be available with a range of engines but the top of them will be the new S3.
Photo Courtesy of Audi
Packing a 2.0-liter turbocharged inline-four with just under 300 horsepower, the S3 sedan promises to be a veritable pocket rocket. Power is transmitted to all four wheels through Audi's S Tronic six-speed dual-clutch transmission and Quattro all-wheel drive to rocket to 60 in just 4.7 seconds. That's the same time that Aston Martin quotes for its new Rapide S, a car which requires nearly twice as much power at 550 horses and a price tag over five times as high. Small is suddenly looking very beautiful indeed.
Photo Courtesy of Mercedes-Benz
With the most potent engine on the market, the Mercedes-Benz CLA45 AMG is even quicker. Its engine is the same size as the Audi's and also drives to all four wheels through a dual-clutch transmission (albeit with one extra gear), but with 355 horsepower, can reach 60 in just 4.5 seconds.
Part of AMG's smallest vehicle range yet, the AMG is based on Mercedes' new compact four-door "coupe" and features the same mechanical enhancements applied to the European-market A45 AMG hot hatch.
Photo Courtesy of Mercedes-Benz
At $47,500, the CLA45 is more expensive than the S3's projected $39,000, but is that much quicker off the line and boasts the clout of the AMG letters on the trunklid American buyers demand. Audi may need to add an R to its S3 (and a commensurate jump in power) to match the Benz in either category, but as they stand both these four-door German pocket rockets promise to redefine what a performance sedan can and should be.
Photo Courtesy of Mercedes-Benz