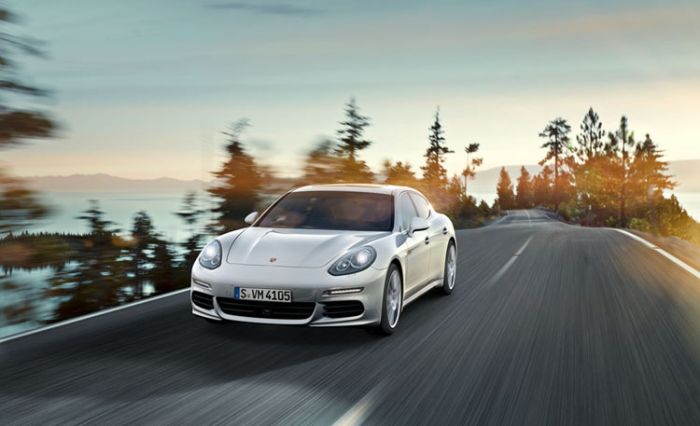 Photo Courtesy of Porsche
It's Earth Day and that means that people who usually don't care about Mother Earth will suddenly be wearing green tops and expounding environmental facts they learned two hours prior. Sure, there are a ton of people who care all year round, but many will be partaking in a passing interest, especially since there tends to be a stigma around environmentally conscious products.
Years ago driving a hybrid car was pretty obvious and you had to sacrifice style and luxury for an eco-conscious presence. That's just not the case anymore and many car brands are proving it with their luxury eco-friendly options, which look just as stylishly cool as the standard models ? if not cooler. From the upcoming Porsche 918 Spyder to the Mercedes-Benz S400 Hybrid, here are our favorite hybrid cars out there!
Fisker Karma
With an estimated base price of $105,000, the
Fisker Karma
is the "first true electric luxury vehicle with extended range and the freedom to plug in or fill up." According to Fisker, owners can easily switch between the all-electric Stealth Mode (with a 20-kWh lithium-ion battery pack) and the fuel assisted Sport Mode (featuring a 260 hp, four-cylinder gas engine), allowing you to drive whenever you want without using gas at all. With a futuristic look, a top speed of 125 mph and the ability to get from 0-60 in 6.3 seconds, Karma's drive range using just the electric engine is up to 50 miles, while the total drive range is up to 300 miles.
Photo Courtesy of Porsche
Porsche Panamera S E-Hybrid
Porsche recently unveiled its first ever rechargeable hybrid car, the
Panamera S E-Hybrid
. Powered by a lithium-ion battery, the luxury auto gives 416 hp at 5,500 rpm and can reach a full charge within 2.5 hours if plugged into an industrial power source. If you only have a domestic socket around, don't worry because the wait time still won't be longer than four hours. Even more impressive is that the S E-Hybrid makes 0-60 mph in only 5.2 seconds and can reach a top speed of 167 mph. Set for a July 2013 launch, the new Panamera is priced at $99,000.
Photo Courtesy of BMW
BMW ActiveHybrid 7
BMW's ActiveHybrid 7
is the eco-friendly version of the brand's 7 Series sedan, carrying a starting price of $84,300 MSRP. The ActiveHybrid promises that the 3.0-liter TwinPower Turbo in-line six-cylinder engine and electric motor work together fluidly to store as much energy as possible. The engines give a combined output of 350 hp, 30 mpg on the highway, 160 lb-ft of torque, and will get you from 0-60 in only 5.6 seconds. Overall comfort also seems to be much improved over the model it's based on, offering massage features and a smooth ride that minimizes bumpy roads.
Photo Courtesy of Porsche
2014 Porsche 918 Spyder
The
Porsche
918 was first revealed back in 2010 at the Geneva Motor Show and it's finally nearing the end of its testing phase. While many of the details are still kept secret, like what the interior really looks like, we do know that the car carries a high-speed V-8 engine with a displacement of over 4.0 liters and has a maximum power over 500 hp. The brand promises that it accelerates from 0-60 in around 3.1 seconds and has an expected top speed of around 198 mph. The model will also be limited, fittingly, to only 918 worldwide so if you have some Porsche connections you may want to start calling them now. Rumor has it that the 918 Spyder will run you $845,000 for the base model and $929,000 if you want the weight-savings Weissach Package.
Photo Courtesy of Mercedes-Benz
Mercedes-Benz S400 Hybrid
The
Mercedes-Benz S400 Hybrid
has an MSRP of $92,350 and has a 3.5-liter V-6 gasoline engine with an electric motor. As the first hybrid vehicle for Mercedes-Benz and the "first production sedan to use a lithium-ion battery for its powertrain," this car features a combined 295 hp, 284 lb-ft of torque, and can go from 0-60 in seven seconds. While this car is a hybrid, it doesn't ever propel itself on electric power alone, and at higher speeds it uses the battery to boost the engine without using additional fuel. The car makes a top speed of 130 mph and is EPA-rated 19/25 mpg.
Photo Courtesy of Tesla
Tesla Roadster
We know that this car isn't exactly a hybrid but if you're serious about driving an eco-conscious car, you'll have a hard time beating Tesla. The Roadster is a fast two-seat convertible sports car, changing the way people think of 100 percent electric autos. Powered completely by lithium-ion batteries, without a fuel engine, the Roadster comes with a price tag of over $100,000, putting it in league with luxury offerings from brands like Aston Martin and
Ferrari
. The charger is incorporated into the powertrain system so you can use any 110-volt of 220-volt power outlet for charging — the company suggests charging it at night since a lot of utility companies offer cheaper rates during off-peak hours. Plug it in, go to sleep, and wake up to a fully-charged sports car that will give you 245 miles of driving.
You can get the Roadster in a variety of colors, like a classic sporty red or a racing green. There are also a lot of upgrades you can add, like an interior and exterior carbon fiber kit (which includes the door sills, center console trim, hood panels, front and rear spoilers, and a hard top), xenon headlights, and adjustable suspension. The
Tesla Roadster
is currently sold out in North America so you may have to travel a bit to get yourself a new one.
Photo Courtesy of Lexus
Lexus LS 600h L Hybrid
With a combined horsepower of 438 and a gas/electric V8 5.0-liter engine, the
Lexus LS Hybrid
runs for $119,910 and has an EPA fuel rating of 19/city, 23/highway, and 20/combined (which really isn't that impressive with consideration to other hybrids). The four-door sedan makes 0-60 in 5.5 seconds and has a top speed of 130 mph. When driving around the city the car can run up to 20 mph on the electric engines alone, which should give you a pretty quiet ride. The LS 600h L also has an executive-class seating package that replaces the back bench seat with two separate seats, the right one able to electronically recline with a built-in leg rest and shiatsu massager.
Photo Courtesy of Audi
Audi Q5 Hybrid
Audi's Q5 Hybrid
(which could run you around $48,864, base price) has a 2.0-liter turnocharged, four-cylinder engine that combines Audi's valvelift system, variable valve timing, and their direct injection and turbocharging for more power. The hybrid system is a 266 volt, 72-cell, lithium ion battery. The engine and electrical systems gives a combined horsepower of 245, with 354 lb-ft combined torque, and can reach 0-60 in 6.8 seconds with a fuel estimate of 24/30/26 mpg and a top speed of 130 mph. The car also features a Bang & Olufsen sound system and Audi Connect, which uses Google Maps to give you a better navigation experience with more travel services via the infotainment interface — it's also a WiFi hotspot for up to eight different mobile devices.
Photo Courtesy of Cadillac
Cadillac Escalade Hybrid
Starting at $73,850, the
Cadillac Escalade Hybrid
features regenerative braking that "converts the vehicle's kinetic energy into electric energy for later use by the electric motors." The car also deactivates four of the eight cylinders whenever possible so fuel consumption is reduced as much as it can be, helping give the car an EPA-estimated 20 mpg city and 23 mpg highway. The luxury SUV has plenty of room for up to eight people and according to the brand, is load-sensitive so that if you're towing a trailer up a hill, the car will automatically select the most efficient power mode. The car can also be started and the interior climate can be adjusted from up to half a football field away, making sure that it's comfortable and ready to go by the time to get inside.