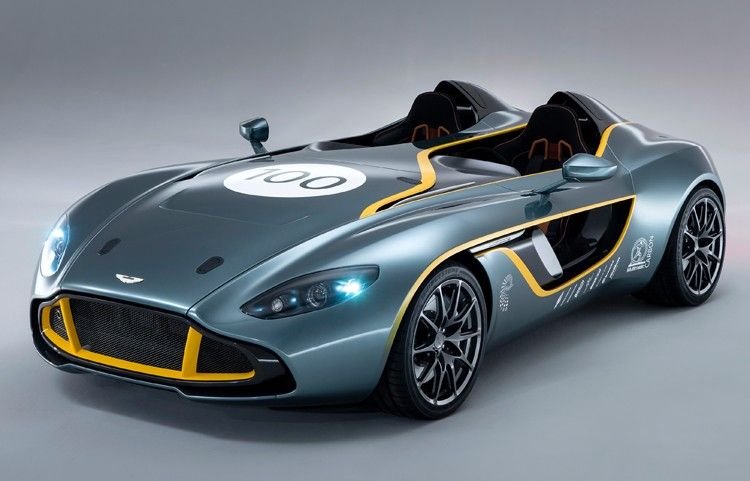 Photos Courtesy of Aston Martin
Spectators at the Nürburgring 24 Hour race in Germany last weekend were treated to an unexpected surprise when
Aston Martin
lapped the vaunted racetrack in an entirely new concept car. Called the CC100 Speedster, the model celebrates the company's hundredth anniversary in style.
The concept adopts a similar open bodystyle to the recent Pininfarina Sergio concept and the
Mercedes-Benz
SLR McLaren Sterling Moss edition — the latter incidentally named after the same British racing legend who piloted the CC100's spiritual successor, the 1959 DBR1, alongside the concept around the Nürburgring.
Underneath the dynamic carbon-fiber bodywork, penned by design director Marek Reichman and chief exterior designer Miles Nurnberger, sits the latest iteration of Aston's signature 6.0-liter V12. It's the same engine that powers most of the company's lineup — including the newest Vanquish in which it produces 565 horsepower — mated to a six-speed sequential transmission to propel the speedster to 62 mph in just over four seconds and on to a 180 mph top speed.
As Aston Martin's chief executive Dr. Ulrich Bez (expected soon to retire from his position) pointed out, however, "this car is more, even, than a simple 'birthday present' to ourselves: it shows that the soul of Aston Martin — the thing that differentiates us from all the other car makers out there — is as powerful as ever."
What Dr. Bez is alluding to is that, while the vehicle pictured here is very much a showpiece in terms of its radical roof and windowless form, it also previews the company's future styling direction. Industry sources reported recently that Aston Martin dealerships were instructed to stop taking orders for the V12
Vantage
, lending to question whether its replacement could look something like this — albeit with a few more creature comforts. A roof and windshield sound like a good place to start.