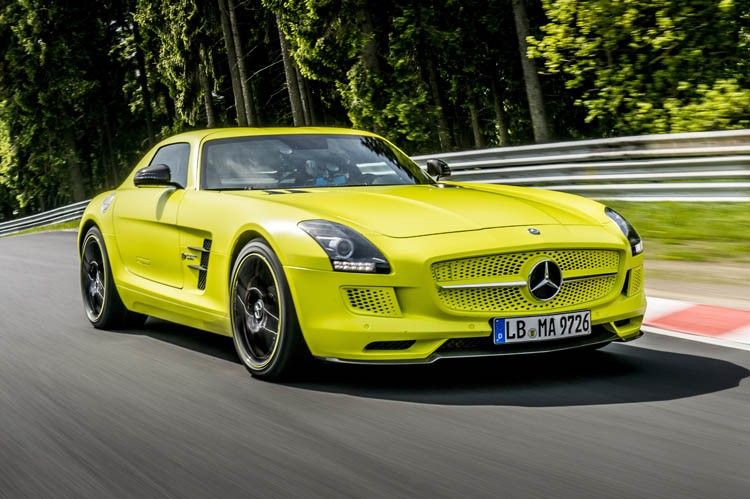 Photos Courtesy of Mercedes-Benz
What you're looking at here is the very top of the line from
Mercedes-Benz
. The Electric Drive version is based on the SLS AMG, but replaces its 6.2-liter V8 with 751 horsepower's worth of electric motors. The result is the fastest electric car you can buy.
The claim is backed up by the latest record which Mercedes showcased at the vaunted Nurburgring Nordschleife, widely regarded as the most demanding racing circuit ever made and the standard by which high-performance automobiles are measured. Its leader board of laps times is the ultimate in automotive bragging rights, and the SLS Electric Drive just set the fastest lap ever achieved in a road-going electric vehicle.
At 7:56.234 minutes, the battery-powered Gullwing supercar is also the first production EV to break the eight-minute barrier at the Ring, putting it on par with numerous conventionally-powered sportscars and handily besting the Audi R8 e-tron that held the electric lap record previously at 8:09.099.
"Mercedes-AMG impressively shows the potential of the SLS AMG Coupé Electric Drive with this new record on the Nürburgring Nordschleife," said Mercedes-AMG chairman Ola Källenius. "Mercedes-AMG is the first vehicle manufacturer to have circled the Nordschleife in under eight minutes with an electrically-powered series production vehicle. This record run is further proof for our constant innovative vigour."
The achievement follows the win which its racing counterpart, the SLS AMG GT3, just took in the Nurburgring 24 Hours, marking the first time a Mercedes won the infamously grueling race.
In the right conditions, the SLS Electric Drive is capable of reaching 62 mph from a standstill in under four seconds and top out at an electronically-limited speed of 155 mph — which is also, incidentally, its range on a full charge to its 60 kWh battery pack. Don't expect it to come cheap, though: at 416,500 euros (approximately $550,000), it's being hailed as the most expensive car
Mercedes
has ever made.