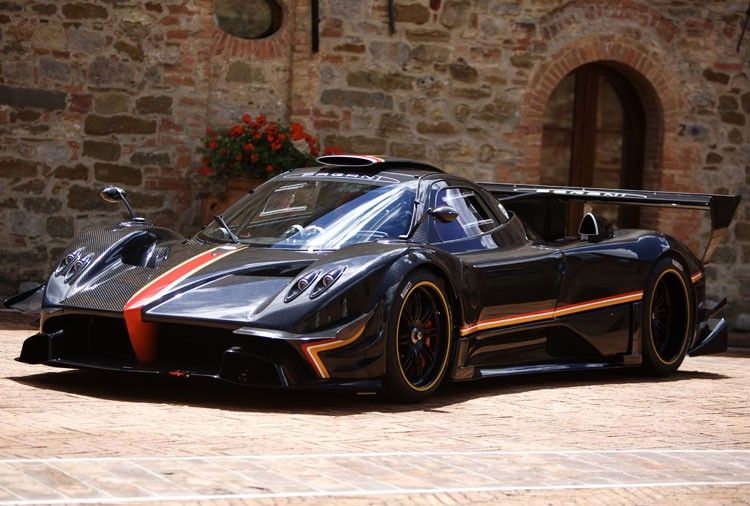 Photos Courtesy of Pagani Automobili
The newer Huayra was supposed to replace the aging Zonda in boutique supercar-maker Pagani's lineup. The trouble is that, given its broad customization options, customers still demanded Zondas long after the Huayra was introduced — and were willing to pay big bucks for them, too. So little wonder that Horacio
Pagani
and company continued building and developing the model it first debuted some fourteen years ago.
This, however, is said to be the last. It's called the Zonda Revolucion, and it was just recently unveiled at Vanishing Point, an international gathering of Pagani's customers in Italy.
The Zonda Revolucion blends all the best elements from the versions that have come before. It's constructed of a proprietary carbon-titanium composite to keep weight down to just 1,070 kilograms, motivated by a further evolution of the engine developed and produced by Mercedes-AMG for the Zonda R. The 6.0-liter naturally-aspirated V12 pumps out a massive 800 horsepower, driven to the rear wheels through a six-speed sequential transmission that will swap gears in just 20 milliseconds. Its cutting-edge aerodynamics package even includes an F1-style Drag Reduction System, all kept in check by the latest carbon-ceramic brakes.
"Limits are made to be overcome," said Horacio Pagani. "We knew that Pagani Zonda R was already a fast car, the fastest ever on the Nuerburgring Nordschleife. We knew it would be very difficult to design and build a car that was even more extreme. But thanks to the creativity of our designers, engineers, and the whole Pagani family, we created a beautiful object and the fastest Pagani vehicle ever. A car that I am sure will electrify all our customers and fans all over the world."
The car is bound to the track, and is available for sale at 2.2 million euros (plus tax).