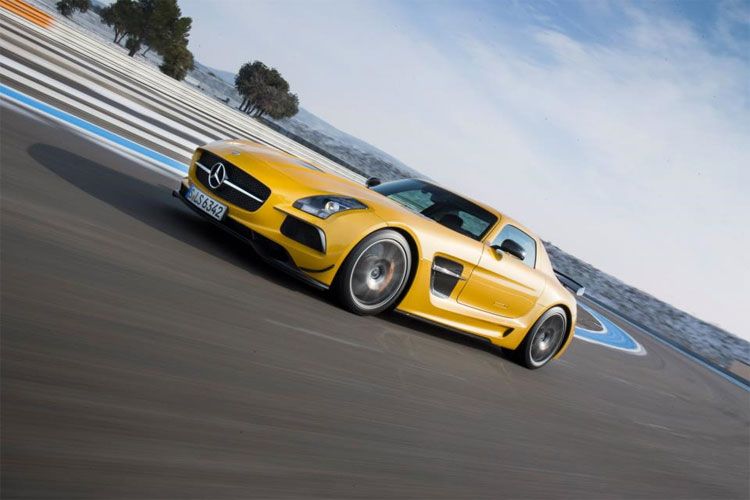 Photos Courtesy of Mercedes-Benz USA
Well, it is safe to say the word 'inexpensive' does not apply when talking about these new exotic and high-performance automobiles. Pricing for the 2014 SLS AMG Black Series coupe and the 2014 C63 AMG Edition 507 sedan and coupe was announced by
Mercedes-Benz USA
, with models now available at all U.S-based MBZ dealers. 
SLS AMG Black Series
The manufacturer's suggested retail price for the MY14 SLS AMG Black Series is $275,000 and the MY14 C63 AMG Edition 507 sedan starts at $70,000. The base price tag on the C63 Edition 507 coupe is $72,500. AMG—which was founded in 1967 by Hans-Werner Aufrecht and Erhard Melcher—is distinguished as the high-performance division of Mercedes-Benz.
SLS AMG Black Series
The AMG 6.3-liter V8 engine generates a power output of 622 hp at 7,400 rpm and accelerates from zero to 60 mph in 3.5 seconds. The SLS AMG Black Series has a 7-speed sports transmission, an adaptive performance suspension, and a ceramic, two-piece brake system. "The new SLS AMG Black Series is a perfect study in the one hundred percent transfer of technology and engineering from motorsport to road," said Ola Källenius, chairman of Mercedes-AMG GmbH.
C63 AMG Coupe
"We have drawn inspiration from the worldwide success of the SLS AMG GT3 customer sport racing car on both a conceptual and a technological level. Boasting numerous lightweight components and fascinating dynamics, our fifth Black Series model guarantees pure, unadulterated 'Driving Performance.' The SLS AMG Black Series is the ultimate choice for fast laps and a highly emotional driving experience."
C63 AMG Coupe
The upgraded AMG 6.3-liter V8 engine and 468 lb-ft of torque make the 2014MY SLS AMG Black Series the most powerful AMG high-performance automobile with a combustion engine. Only the SLS AMG Electric Drive, which has a maximum output of 740 hp, has more power.