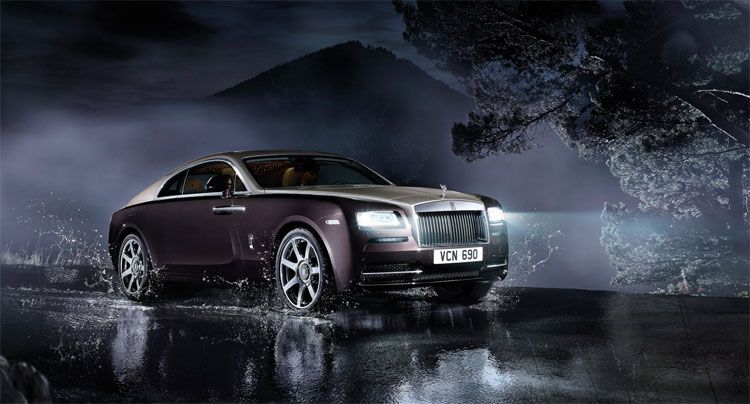 Photos Courtesy of Rolls-Royce
The first Wraith model by
Rolls-Royce Motor Cars
is currently touring key locations in the United States. The new ultra-luxury automobile is being featured in a three-month coast-to-coast tour with appearances in 22 cities. The U.S. debut of the Wraith occurred in March at the New York Auto Show.
The Wraith is being touted as the most powerful and high-tech Rolls-Royce model in the storied company's 109-year history. The British automaker says that the vehicle's voice-activated connectivity is akin to having an "onboard valet." It also claims that the Wraith is as comfortable as it is powerful with its spacious cabin and full, four-seat configuration.
On the power side of the ledger, a twin-turbocharged V12 engine connected to an 8-speed automatic ZF transmission ensures an effortless, but effective delivery of its power. Along with a satellite-aided transmission system that taps GPS mapping to keep the Wraith in optimal gear for road conditions, it also has a 624-bhp engine with 590 ft-lbs torque that enables an acceleration from zero to 60 mph in 4.4 seconds. Test drives are available at the ride-and-drive events. The automobile firm is hopeful that the Wraith will increase market share for Rolls-Royce, as it is expected to appeal to drivers that are interested in a elegant yet performance-driven fast-back design.
"I am delighted that we are introducing the highly anticipated first Rolls-Royce Wraith," said Eric C. Shepherd, regional director of North America for Rolls-Royce Motor Cars. "Rolls-Royce is a brand defined by British hand-craftsmanship, rooted in the highest measures of luxury, quality and attention to detail. Our discerning clients will be lulled by the car's performance and agility, both of which will deliver on the promise of dramatic exterior styling."
Executives of the Rolls-Royce management team expressed a feeling that the new model symbolizes the essence of the brand so strongly it would be embraced by Charles Rolls, the founder and financier of the deluxe automobiles designed by Henry Royce. "By sensationalizing a feeling of adventure and innovation, we believe [the] Rolls-Royce Wraith would be the chosen vehicle of our great founding forefather, The Honorable Charles Rolls, if he were alive today," commented Torsten Muller-Otvos, CEO of Rolls-Royce Motor Cars. "The United States was built on its pioneering spirit, which is why I believe that this market will be Wraith's most enthusiastic in the years ahead. I look forward to welcoming more new customers to the Rolls-Royce family."
The Wraith's 22-city tour of America, which began on June 13, will continue through October 4. The schedule of remaining appearances is as follows:
Jackson Hole Economic Conference: July 9-July 13
Rusnak/Pasadena Ride & Drive: July 15-July 16
Rolls-Royce Motor Cars Beverly Hills: July 18-July 20
Rolls-Royce Motor Cars Los Gatos: July 22-July 23
Rolls-Royce Motor Cars Westlake: July 25-July 26
Symbolic Motor Cars: July 29-July 30
Rolls-Royce Motor Cars Newport Beach: August 1-August 2
Pebble Beach Councours d'Elegance: August 12-August 18
Rolls-Royce Motor Cars Bellevue: August 21-August 22
Desert European Motorcars: September 3
Rolls-Royce Motor Cars Las Vegas: September 5-September 6
Rolls-Royce Motor Cars Scottsdale: September 9
Rolls-Royce Motor Cars Austin: September 12-September 13
Rolls-Royce Motor Cars Houston: September 16-September 17
Rolls-Royce Motor Cars Dallas: September 19-September 20
Rolls-Royce Motor Cars Orlando: September 23
Rolls-Royce Motor Cars Tampa Bay: September 25
Rolls-Royce Motor Cars Naples: September 27
Rolls-Royce Motor Cars Miami: September 30
Rolls-Royce Motor Cars Palm Beach: October 2
Rolls-Royce Motor Cars Fort Lauderdale: October 4