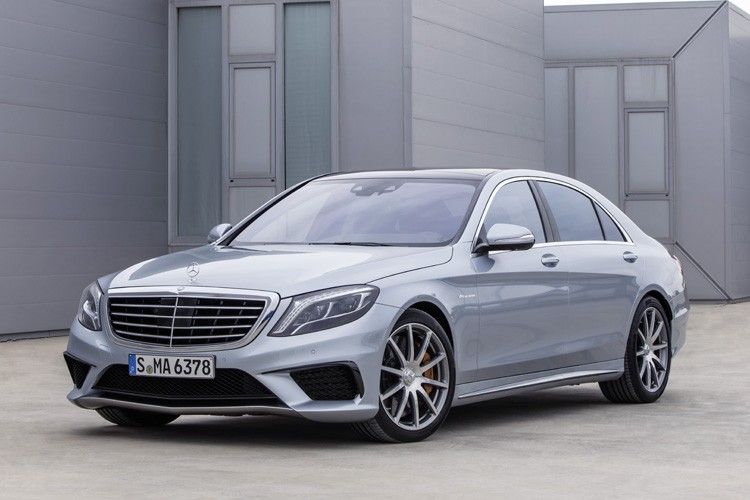 Photos Courtesy of Mercedes-Benz
A little bit of competition is a good thing — just take a look at the top of the luxury performance sedan market. When Mercedes introduced the previous S63 AMG, it had only to contend with the Audi S8, but now the market is flush with rivals like the BMW Alpina B7, Jaguar XJR and new
Maserati Quattroporte
. To compete, Mercedes has upped its game with the introduction of the new S63 AMG.
The latest
Mercedes-Benz
S63 AMG incorporates all the luxury features and state-of-the-art technology that the German automaker developed for the new S-Class on which it's based — and they are considerable — but what sets it apart is just how much power it offers and how fast it can move. Power comes once again in the form of a 5.5-liter twin-turbocharged V8 engine, but now it's got more muscle than ever before: 557 horsepower and 664 lb-ft of torque, to be more specific.
The aforementioned competition, by way of comparison, offers between 520 and 550 horsepower, and between 479 and 538 lb-ft of torque — numbers which the new Mercedes thoroughly trounces. Like its baby brother the E63 AMG, the S63 is also being offered for the first time with 4Matic all-wheel drive (which comes in this case as standard), helping it put all that power down to the tarmac.
Thanks in large part to its aluminum-intensive construction, the new AMG flagship sedan has over 200 pounds less weight to motivate, enabling it to rocket from 0-60 mph in 3.9 seconds and top out at 186 mph. At that rate, it'll leave even the quickest of competition — not to mention a large number of sports cars — in its dust as it roars down the Autobahn.
"Following the successful launch of the A45 AMG and the CLA45 AMG, the new S63 AMG 4MATIC highlights our expertise in the automotive high-end segment," says AMG chief Ola Källenius. "Lightweight construction and absolute performance are among the key strengths of the new flagship model from Mercedes-AMG. The new S63 AMG 4MATIC likewise leads the way when it comes to perfection, high-class appeal and quality. We are also offering the S63 AMG 4MATIC with the performance-oriented AMG all-wheel drive system 4MATIC for the first time to target new markets: the S63 AMG 4MATIC is just the ticket for customers who attach importance to four-wheel drive due to weather conditions."
The auto is further differentiated from its more staid counterparts by a sportier aerodynamics package, larger wheels and tires, upgraded brakes (including available ceramic rotors) and a retrimmed interior. The S63 AMG joins the other sedans in the new S-Class family, which is expected to expand in the near future with extended-wheelbase models, a coupe and even a convertible. So watch this space for more.