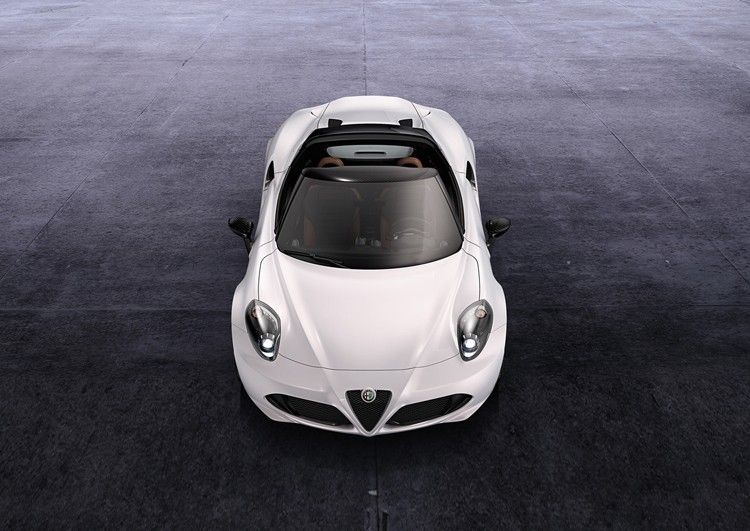 Photos Courtey of Alfa Romeo
Alfa Romeo is a name that belongs alongside the likes of Ferrari, Maserati and Lamborghini in the annals of the greatest sportscar marques in Italy. However, these days the luxury car brand is consigned to making hatchbacks. The last time it made a truly desirable sportscar was with the 8C Competizione, but that was way back in 2007 and only 500 of them were made. Alfa Romeo's recent history is what made the debut of the 4C such a refreshing breath of air.
The Alfa 4C debuted in concept form in 2011, just a year after assembly of the 8C ended. The production version followed just last year, but at the Geneva Motor Show earlier this month, the Italian marque showed up with the 4C Spider.
Based on the same platform as the 4C coupe, the 4C Spider is built around a lightweight carbon-fiber chassis with a small, but highly potent, 1.75-liter turbocharged four-cylinder engine mounted behind the tight two-seat cockpit. What makes the 4C Spider unique is that the roof is gone. In its place is a carbon-fiber windshield frame, reformed Sheet Moulding Compound bodywork, lightweight canvas folding roof mechanism, and an open-air cockpit.
"Spiders have always occupied a prime place in Alfa Romeo's heritage because they are the freest and most emotion-driven expression of motoring," says the company in announcing the Spider. "The same spirit is expressed in the preview of the Alfa Romeo 4C Spider, the natural evolution of Alfa Romeo's long spider history focused on cars capable of delivering great excitement, outstanding driving satisfaction, striking design and powerful, flexible engines."
Alfa has also seen fit to equip the 4C Spider with a titanium and carbon-fiber exhaust system from Akrapovic — a company known for piping competition-spec motorcycles — and a new set of headlights to replace the divisive units on the coupe, on which they'll be offered as well.
Billed as an "avant-prémiere" design preview, the 4C Spider isn't going into production as is just yet, but is targeted to reach dealers early next year — in Europe, that is. Enthusiasts and eager customers in North America are still awaiting the brand's return to their shores. With parent company Fiat now merged with Chrysler, and Fiat 500s zipping all over American roads, we're hoping it'll only be a matter of time before this venerable marque will make the transatlantic voyage once again — and bring the 4C along with it.