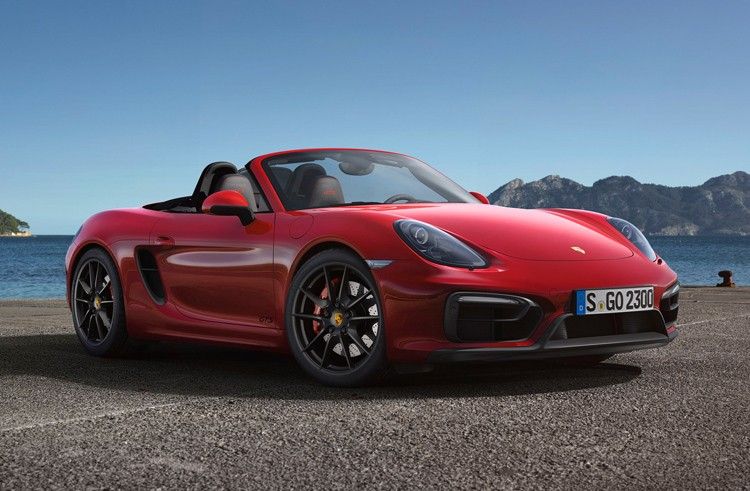 Photos Courtesy of Porsche
The Porsche name is a legend unto itself, responsible for creating some of the most iconic sports and racing cars in the history of the automobile. But even within the pantheon of Porsche lore, the letters GTS carry a certain clout for enthusiasts. They first appeared on the legendary 904 Carrera GTS of 1963, resurfaced on the front-engined 924 GTS and 928 GTS, then disappeared from the scene for another couple of decades before Porsche brought it back for even sportier-oriented versions of the Cayenne, Panamera, and 911. And now it's applying the legendary letters once again for the latest, most desirable versions of the Boxster and Cayman.
These two models, for those unfamiliar, represent the entry level of Porsche's lineup — the Boxster as the convertible and the Cayman as its fixed-roof counterpart. But in their latest iterations, they emerged from the shadow of their big brother, the 911, to stand on their own four wheels as highly capable and lust-worthy sportscars all on their own. The GTS versions only serve to make them even more so.
What sets these GTS models apart from the Boxster S and Cayman S is more power and upgraded equipment. The 3.4-liter boxer six engine has been upgraded by 15 horsepower and seven pounds per foot of torque to produce 330 hp and 273 lb-ft in the Boxster GTS, and 340 hp and 280 lb-ft in the Cayman GTS. Unlike the enthusiast's favorite 911 GT3 — which is only available with a dual-clutch transmission in its current, combustible version — the Boxster and Cayman GTS can be had with a six-speed manual transmission.
But they are even quicker with their seven-speed dual-clutch gearbox with launch control initiated via the Sport Plus button: the Boxster GTS will rocket from 0-60 in 4.4 seconds and top out at 174 miles per hour, while the Cayman GTS (with a little more power and a little less weight) will do the same in 4.3 seconds en route to its 177 mph top speed.
Not long ago, those are figures would have belonged only to a six-figure supercar, but the Boxster GTS is priced at $73,500 and the Cayman GTS at $75,200 (plus an obligatory $995 destination charge). That makes them both about ten grand more than the existing S versions, but about the same amount less than a 911 Carrera — with only ten fewer horsepower to show for it.
For the price, you also get the otherwise optional Sport Chrono package and Porsche Active Suspension Management system as standard, as well as 21-inch wheels, blacked-out trim, and an interior fitted with Sports Seats Plus and swathed in Alcantara. You get all of that, plus the clout of owning and driving what could be argued to be the finest compact mid-engined sportscar Porsche has made to date.