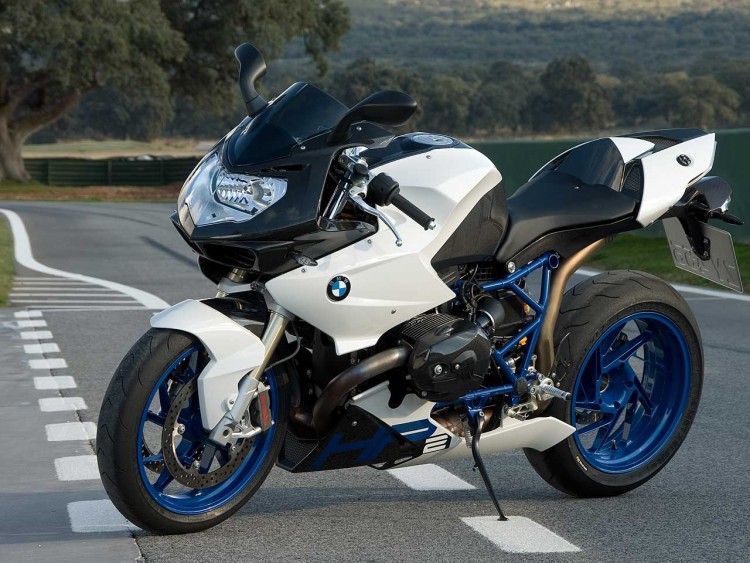 Photos Courtesy of BMW Motorrad
When journalists get to try a bike out, they usually have at least two days (or perhaps even a weekend) to become accustomed to the machine and get a proper feeling for it. That's what I was expecting when the HP2 Sport from BMW arrived in Ireland for press to try out, though I quickly learned that this time would be different.
Although far from new, the HP2 Sport is still in such high demand, with short supply, that we were given time slots to ride the bike for four hours — at which point it would be returned, fueled and prepped for the next journalist. Four hours is plenty of time when you know a lot about the bike or have ridden it before, but for something this fresh you have to do some planning so that none of your time spent with the HP2 Sport would be wasted. My plan started with a ride around nearby Wicklow Mountains to get a feel for the bike on the open road and ended with some track time at Mondello Park International Racing Circuit. 
Even if you're already pretty familiar with Boxer engines, the Sport is very different. Though it is loosely based around the R1200S sports Boxer, after developing the bike (whilst successfully racing in a number of 24-hour endurance races) BMW wanted to transfer their technical advances onto a road machine for the hardened enthusiast.
At first glance, the HP2 is an incredibly beautiful machine, flanked in expensive materials such as carbon fiber and lightweight metals. Race inspiration is evident from the Moto GP style digital dash, gold Öhlins suspension, and its massive Brembo monoblock system with radial-mounted, four-piston calipers. Once you actually start riding though, you'll notice so much more.
The lower section of the frame is narrower than the R Sport due to a new stainless steel exhaust system, which flows up the back into an almost Ducati-like under-seat silencer. This slimmer design makes the bike feel very light and maneuverable, making it easy to see how the racing talented can turn this into a cylinder-scratching track tool. In fact, the whole bike seems very slender and even the nose fairing tucks in tight, offering very little wind protection for us larger souls. The wing mirrors are about as useful as a toothless chainsaw — unless you want to see your elbows, that is.
The horizontally opposed engine turns heads as the sound ricochets off any nearby walls with each short shifted gear change. The bike features new cylinder heads, with the two overhead camshafts using a drag lever to move larger valves than those found on the R1200S. It produces 128 hp and 85 lb-ft of torque, which is almost five more horsepower over the standard R1200S. It feels great around mountain roads, but somewhat raucous like a track bike. The seat offers little comfort over bumpy back roads, but the Öhlins soak up anything serious.
I didn't have much time left once I got to Mondello, so I hurried to get on the track, cranking up the power down into the first three turns before looping back. From point-to-point, out of each corner, the HP2 feels planted — however, the rear is slightly loose under braking and shifting down. Obviously, the bike wasn't set up for me, and I am sure owners could have it tweaked it to perfection, but it's the definitely the type of bike you would need a suspension specialist to help you out with.
Overall, the HP2 Sport was far more at home around Mondello than it was on the open road. With the banked corners of the circuit, wind resistance wasn't as much of an issue and I found the bike more enjoyable to ride. Feeding it gears from turn one to two was a complete blast and I would love the opportunity to do a full track day on the beast. I returned the bike to BMW with an appreciative smile on my face — not least because I was glad I had a good spin, but also because I had just ridden a very rare machine with 2,472 sold worldwide!
BMW HP2 Sport Specs
Engine type: Flat Twin Shaft Driven
Valve arrangement: DOHC 4 Valves per Cylinder
Displacement: 1170 cc
Bore x stroke: 2
Compression ratio: 12.5:1
Carburetion: Electronic intake pipe injection
Maximum power: 131.42 HP@ 8750 RPM
Maximum torque: 115.00 Nm @ 6,000 rpm
Clutch:Dry single-disc
Transmission: Single dry plate clutch, hydraulic
Front suspension: Telelever, spring pre-load continuously variable, compression damping, rebound damping and vehicle height adjustable
Rear suspension: EVO Paralever, Öhlins central spring strut, spring pre-load continuously adjustable, rebound and compression damping adjustable, vehicle height adjustable
Front brake: Four-piston Brembo calliper, 320 mm disc
Rear brake: Twin-piston Brembo calliper, 265 mm disc
Front wheel: Light metal forged wheel 3.50 x 17
Rear wheel: Light metal forged wheel 6.00 x 17
Front tire: 120/70 ZR 17
Rear tire: 190/55 ZR 17
Rake/trail: 24o/86 mm
Wheelbase: 1,485 mm
Seat height: 830 mm
Fuel capacity: 16 liters
Dry weight: 178 kg