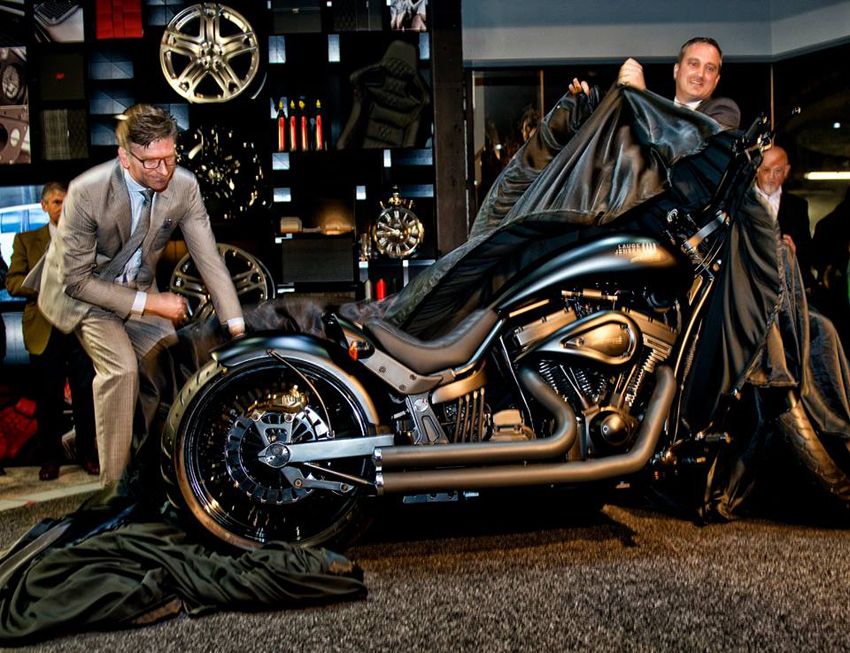 Photos Courtesy of Lauge Jensen
Lauge Jensen, the Denmark-based custom motorcycle company, unveiled their new Viking concept last month at the Top Marques luxury brands show in Monaco. As the collaboration between Jensen owner Anders Kirk Johansen (of the family who invented Lego) and vehicle designer Henrik Fisker, the new luxury motorcycle can hit a top speed of 130mph and will definitely be priced over $58,871 (which is the starting price for the limited edition Great Dane custom cruiser). With so many amazing custom bikes on their roster, we took a look at their most impressive special projects — including their $850,000 24-karat "Goldfinger."
Considered to be the most expensive current production motorcycle, Lauge Jensen's "Goldfinger" is plated with 24-karat gold (even the motorcycle's parts!), covered in 250 diamonds totaling over seven carats, and has a seat upholstered with cognac-colored crocodile skin. It was shown at a few special events before getting nabbed by a private buyer for $850,000.
The Black Diamond is painted in matte black with striped detail lines, taking over 100 hours to get right. According to the company, it took over 70,000 stitches to get the finish on the special black leather seat right. The bike also features a hand painted black panther, customer initials on the tank, and a large inscription featuring four diamonds.
The specially-made HR. SKOV features a diamond-cut engine and airbrushing that features hidden elements, like the company logo and an impression of Munch's "The Scream." The gearshift arm is handmade, shaped to look like a branch bearing an apple, while the specially made fenders give the entire thing a powerful edge.
If you like color and art, you'll love their Per Hillo bike. Painted by the world-renowned Danish artist Per Hillo at a fair in Copenhagen, the bike features a custom-made rear fender that integrated the tail light. The customer wanted the option of taking a passenger for a ride, so Lauge Jensen added a removable back seat kit.
It's obvious that if you're looking for a uniquely customized motorcycle, Lauge Jensen is the shop to call. Plus, considering the company has hinted at a million-dollar bike, we can't wait to see what they do next.