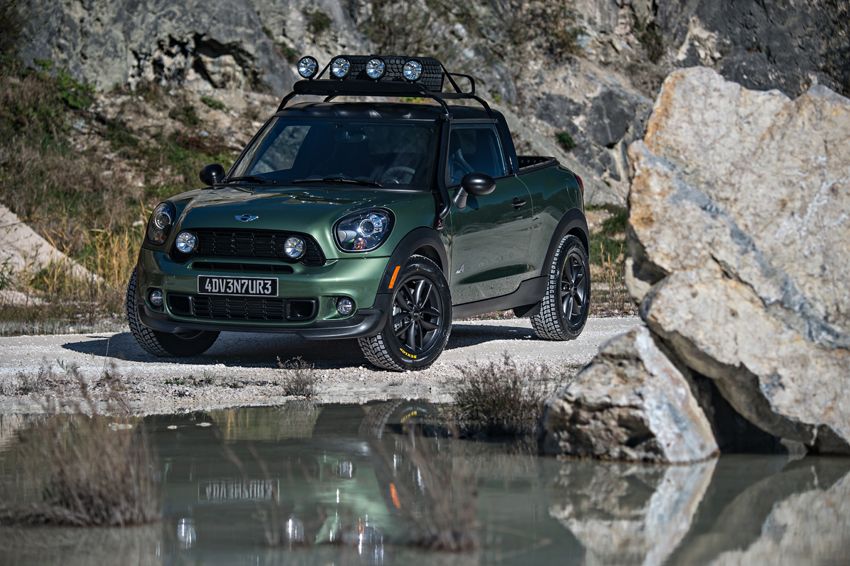 Photos Courtesy of MINI
When we think of MINI's we don't exactly think of trucks, which is why it seemed odd to us that they would make their one-off Paceman Adventure truck. A collaborate design between young apprentices and their instructors at the BMW plant in Munich and Dingolfing, the small two-seater is based off of the MINI Cooper S Paceman and allows you to get the best of both worlds: a compact body with some fun off-roading capabilities.
The back seats were sacrificed for a pickup-style cargo bed and a powerful turbocharged engine was put under the hood, as well as all-wheel drive ALL4, modified suspension and several unique features. A roof rack was also added, which is large enough to strap a spare wheel to, and large lights help nighttime driving. It also has a "snorkel-like roof level air intake," which means the MINI truck can even cross rivers — assuming they're not too deep, of course.
Great for tearing up gravel roads, muddy trails or desert sand dunes, the jungle green Paceman Adventure has the same short MINI overhangs and chassis we've all come to expect from the brand — the strange car is literally the love child of a truck and MINI Cooper.
Since the Paceman Adventure is a true one-off, BMW doesn't have any plans to put the design into production, but it does prove that just because a car may be small doesn't mean it can't take on those bumpy trails with the best of them.