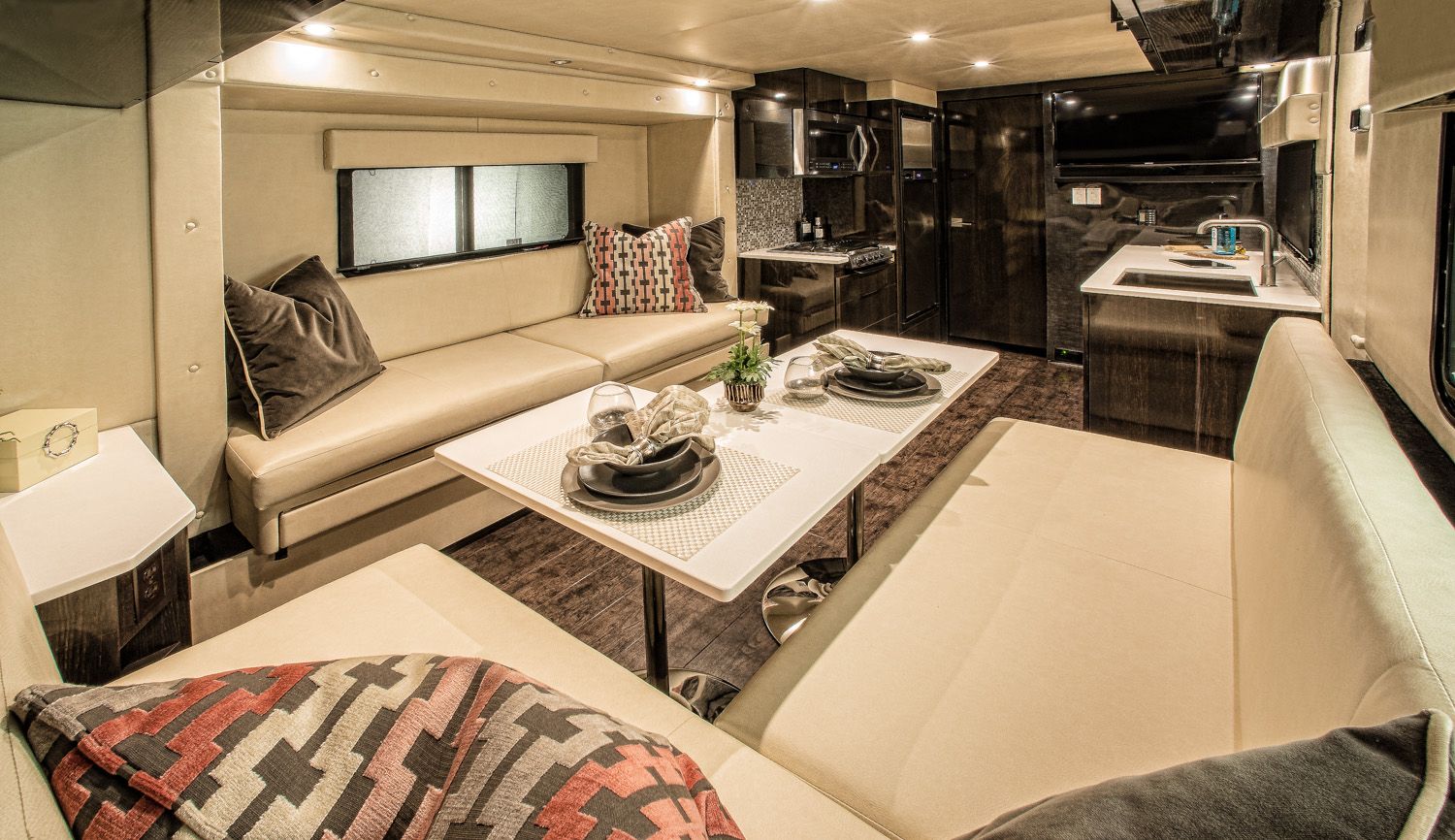 Photos Courtesy of Global Caravan Technologies
Global Caravan Technologies (GCT) takes luxury seriously and they're proving it with the CR-1 Carbon. As the first of many planned vehicles in the company's CR-Series, the carbon fiber caravan is 35 feet long, eight feet wide, over 10 feet tall, and weighs 6,500 pounds—in other words, it's going to make your neighbor's camper look like a joke.
The engineers behind the twin-axle CR-1 have experience with motorsport and aerospace technologies, giving the luxury RV a sleek and dangerous vibe (from the outside at least). Plus, considering carbon fiber is the same material used in most of our favorite sports cars and private jets, the CR-1 fits in quite nicely.
"Our engineers for the development of the CR-1 Carbon worked on everything from wind tunnels to NASA to jets to ships. At one point we had four Indy 500 champion technicians building the CR-1 Carbon, and we have begun recruiting an in-house team which includes Nascar and IndyCar chief engineers and team managers," explains Harrison Ding, chairman and president of GCT.
According to the Daily Mail, the twin-axle CR-1 took seven months to design and build a workable prototype. It has a pretty impressive interior, with room to sleep six people and seat eight. With full-height closets, a walk-through master bath, and a large entertainment/lounge area in the back that can double as a workstation, the caravan seems pretty comfortable. Plus, the CR-1 Carbon includes tinted black-out glass in the front, back, and bedroom ceiling that can be adjusted depending on the privacy level you want and a "smart control iOS/Android/PC software platform [that] manages all system control functions."
While there isn't an exact price yet, there's a good chance this behemoth will cost around £600,000 (which is over $1 million USD). A limited production run will start later in the year.
"We may start taking pre-orders soon to preserve production spots. Given the limited production capacity, our initial focus will be on the high-end of our estimated price range. It's an unprecedented engineering feat given the complexity of the project. We are thrilled with the result," says Ding.