Photos Credit: Mercedes-Benz
One appealing aspect of luxury cars has always been making other drivers jealous. The all-new 2018 Mercedes-Benz E-Class Coupe goes a step further, however; this is a vehicle beautiful enough to make other cars jealous. While other brands are content to tweak and tune, Mercedes' Chief Design Officer Gorden Wagener designed the new E-Class Coupe from the ground up. And such is his talent that it is at once unmistakably a Mercedes-Benz, fully cognizant of the world's oldest and most famous marque's heritage, yet utterly contemporary, the very essence of modern luxury motoring. Mercedes' cars have always led their class in terms of engineering, equipment offered and luxurious finish, but with the new E-Class Coupe they've blasted right past other sleek, midsize European sedans with room to spare.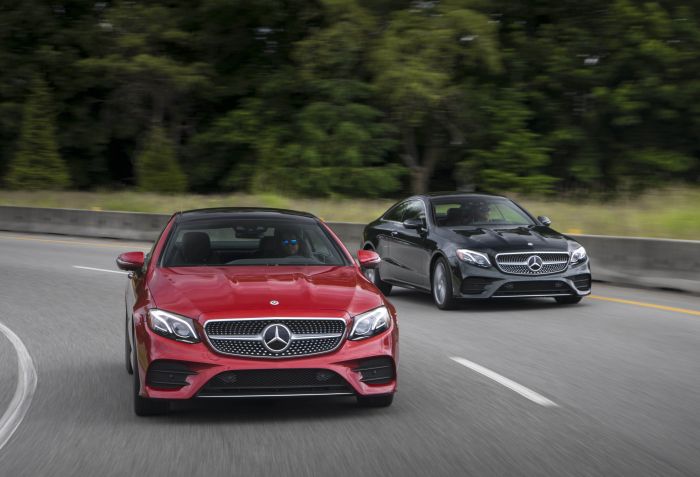 The E-Class Coupe is one of the first executions of "sensual purity," Wagener's newly developed design philosophy that does away with the lines and creases Euro luxe rides have been bristling with for years, opting instead for something smoother, more fluid and altogether more alluring. Sensual Purity is based on six design principles—Unexpected Moments; Stimulating Contrast; Stunning Proportions; Freeform & Geometry; Significant Graphics; and Natural Attraction—and the result is a sort of effortless elegance with cutting-edge looks mated to the timeless, prepossessing personality of Mercedes-Benz motorcars. As the marque notes, "Tradition doesn't mean looking back, it's all about looking ahead to the future and looking forward to every drive."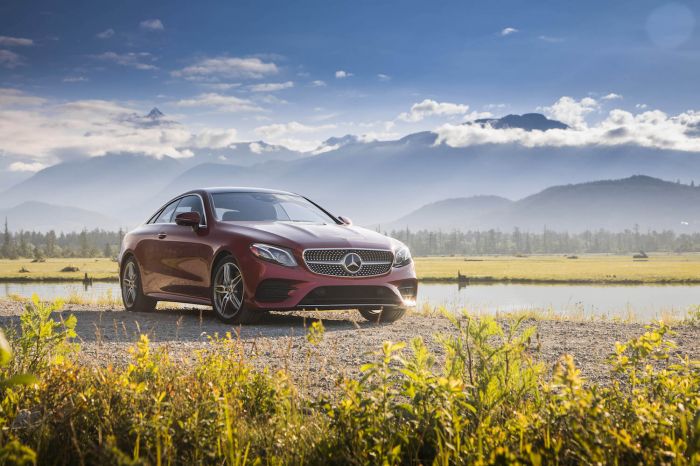 That's exactly what we did when invited to test out the new car recently in and around Vancouver and Whistler, British Columbia, on some of the most scenic roads we've ever had the pleasure to navigate. The E 400 is designed to be the contemporary expression of the classic grand touring coupe, and it's on roads like these that it really shines. It's not the most powerful sedan Mercedes makes, but its 329-hp biturbo V6 provides more than enough juice for any gentlemanly pursuit, and can push all that sensual purity from 0 to 60 in 5.5 seconds or less. If you need to go any faster than that, it's no longer gentlemanly. In Mercedes' own words the E-Class' design embodies "the agility of an athlete and the passion of an artist," which is a fancy way of saying the redesigned car is longer, wider, lighter and more sensuous than its predecessor.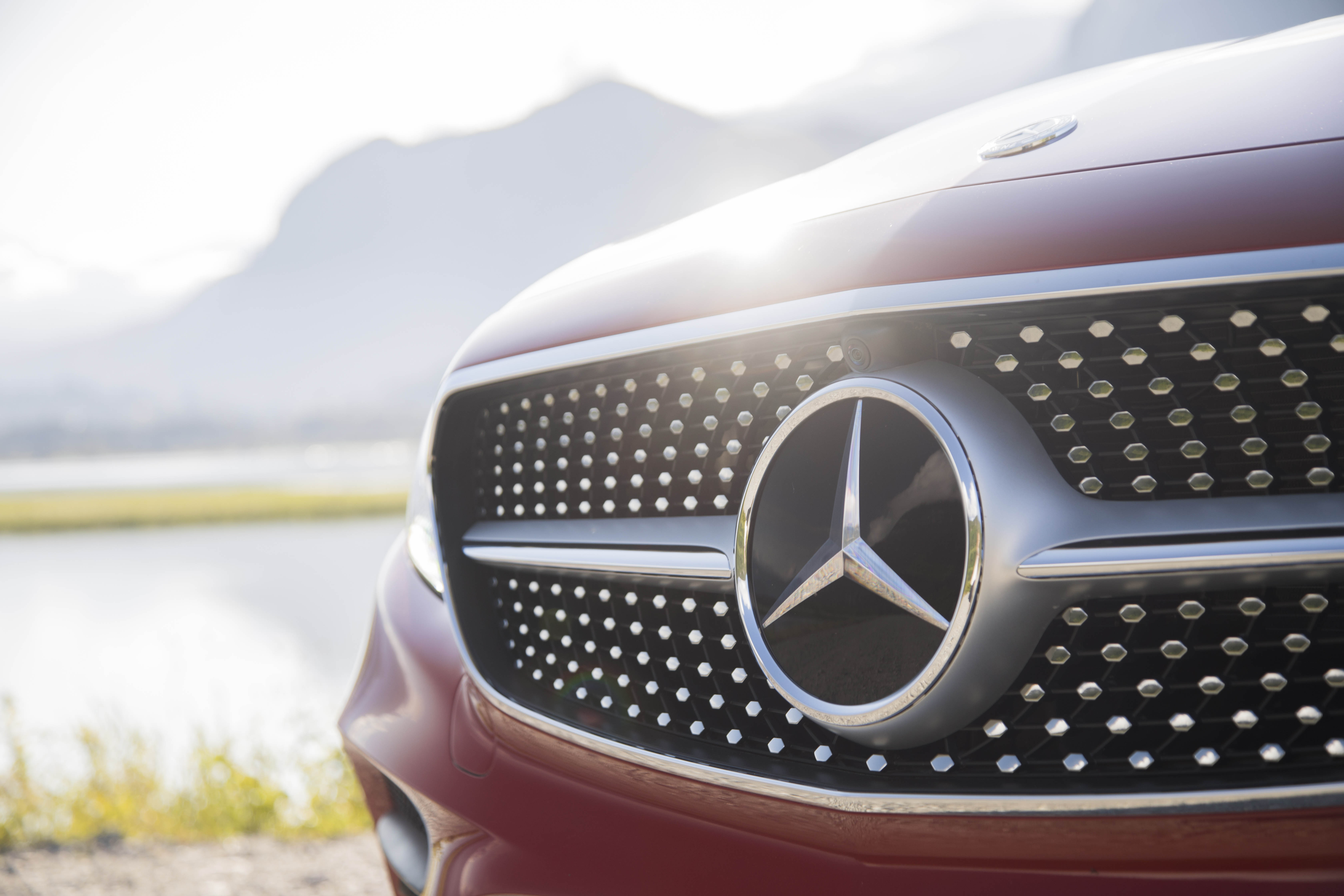 Absolutely nothing has been stinted on, from bespoke air vents to a beautifully tailored interior that echoes the design language of the exterior interpreted in wood, leather and metal. The cabin is surprisingly spacious, and extra passengers can ride comfortably in the plush rear seats. It all comes to a head in Mercedes' new grille design with its hexagonal, chrome-tipped pins radiating from the famed three-pointed star, an icon of luxury motoring since 1909. All the elegance in the world wouldn't matter if it wasn't also a pleasure to drive, and Mercedes has made the E-Class Coupe the essence of mannerly speed, smooth handling and adaptability thanks to its advanced 9G-Tronic automatic transmission equipped with paddle shifters and the Dynamic Select system dialing in the driver's preferred mode of conveyance, adjusting throttle, shifting, suspension and more.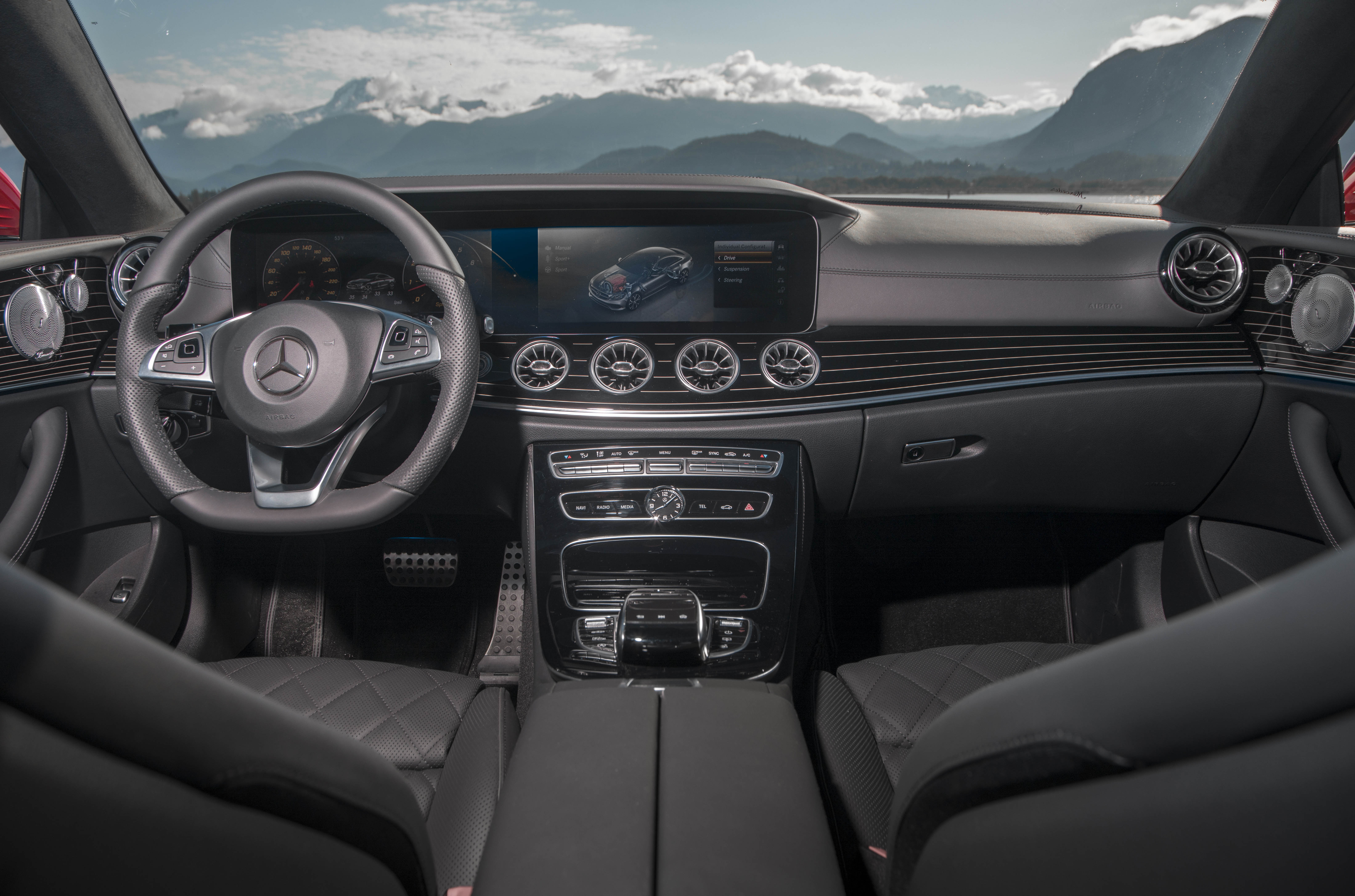 This being a Mercedes-Benz, it's also a paragon of driving safety, comfort and connectivity. E-Class cars can actually talk to each other to ensure the smoothest driving experience courtesy of Car-to-X technology enabling the vehicle to communicate with a central hub to report and receive updates about driving conditions far ahead of the driver's line of sight. And a system called Pre-Safe Sound can even sense an impending collision and pre-trigger your ears' natural defense against loud noises so you don't suffer any loss of hearing in a crash. Add to that a 12.3-inch screen combining navigation, entertainment, climate and comfort settings controlled via a touchpad on the console and once again the competition is left lagging. Apple CarPlay is standard and a second 12.3-inch digital instrument cluster is also available. It all interacts with MBRACE, Benz's much lauded smartphone app and interactive system which includes features like remote start and also allows for internet connectivity in the car. The 2018 E-Class coupe starts at $58,900 for the E 400 model and $61,400 for the all-wheel drive E 400 4MATIC Coupe designed for more challenging climates.