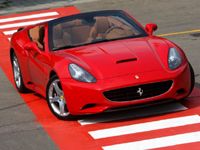 Luxury Autos:
In true Ferrari tradition the brand new California has already generated a lengthy waiting list, with the Italian carmaker confirming today that its striking convertible is sold out until 2011. Ignoring fears of an economic downturn, thousands of wealthy buyers have placed deposits for the car, which will first go on sale in January next year priced from ?179,000.
Ferrari has planned a production of about 2,500 to 2,800 Californias for 2009 and roughly 3,000 cars for 2010. Speaking with Automotive News, Ferrari chairman Luca Cordero di Montezemolo said there are no plans to change this output. He also revealed that 60 percent of buyers who have ordered a California have never bought a Ferrari before.
One positive side-effect of the global financial crisis, Montezemolo explained, was that less orders had been received from buyers who simply purchase the cars to sell them at a profit almost immediately after taking delivery.
"We had unacceptably long waiting lists caused by too many people who were not buying the car they ordered, but were reselling their order at a profit," he said. Ferrari is notorious for its long waiting lists, which for some buyers can often be more than 18 months. Previously, buyers who wanted their cars straight away either had to be long-time customers or be willing to pay significant premiums to resellers.
Powered by an all-new direct-injected 460hp (343kW) 4.3L V8, the California is expected to be available for sale in North America early next year. Pricing is expected to start around $190,000, making it easily the most affordable of Ferrari's lineup and giving it the sales-boosting potential the company is seeking for it.
The new California is also one of the cleanest Ferraris ever built, with a 30 percent reduction in fuel consumption compared to the F430, brought about by a new seven-speed dual-clutch transmission with four separate settings and advanced aerodynamics. Equipping the car with the latest generation of F1-TRAC traction control and magnetic ride control system makes it a practical vehicle and yet a capable performer as well. With 0-62mph (0-100km/h) acceleration under 4.0 seconds, it's sure to be a joy in a straight line, too.
By Nelson Ireson
Motor Authority