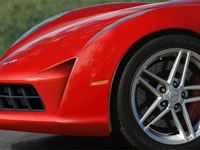 Luxury Cars:
There are all manner of rumors concerning the next-generation C7 Corvette, with stories ranging from the possibility of a mid-engined platform to AWD powertrains and even the arrival of a dual-clutch version. Although there isn't much substance to any of these rumors, one of them that's starting to gain credence is the possibility the new car could be delayed due to upcoming CAFE regulations as well as General Motors' own financial problems.
According to a recent report, the C7 Corvette has been put on indefinite hold. Not only is there no set timetable for the next-generation model, plans for an update to the current C6 model has also reportedly been delayed as well.
Insider sources have revealed that the C7 was originally planned to be introduced in 2012 for the 2013 model year but this is now unlikely to happen. However, contrary to the insider information, Corvette vehicle-line executive Tom Wallace has previously stated that GM was working on a future Corvette and that some changes to the current model are coming in 2010. He also acknowledged that CAFE regulations will play a role in determining the layout and hardware of the next-generation Corvette but stressed that it won't kill the car. Unfortunately, Wallace is set to retire later this year, lessening the credibility of his previous comments.
This latest computer generated rendering gives us a preview of a possible design direction GM could take for its next Corvette, suggesting that the unannounced concept vehicle seen on the set of the movie Transformers: Revenge Of The Fallen could be the inspiration for the car. Some of the elements carried over from the concept include the egg-crate grille, vertical slat headlights, side vents, and the jet-fighter glasshouse
By
Motor Authority