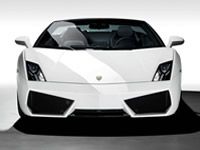 Luxury Autos:
Lamborghini has used this week's Los Angeles Auto Show to debut a brand new convertible version of its Gallardo LP560-4 supercar. Picking up the "Spyder" name, the new open-top model faithfully copies the profile of the coupe despite feature an automatic folding soft-top.
The roof mechanism uses a hydraulic pump and six-cylinders as well as an electric motor to lift or lower the roof, which takes about 20 seconds. With the roof closed, Lamborghini claims the new Gallardo LP560-4 Spyder will be able to safely reach a top speed of 324km/h.
To further differentiate the Spyder from the standard coupe, designers have added slightly revised headlights with LED detailing and daytime running lights. Also new is a reverse camera located in the rear spoiler.
The car measures in at 4.34m in length, 1.9m across, and 1.18m high, and weighs 1,550kg. When combined with the 552hp (411kW) and 398lb-ft (540Nm) of torque output of the LP560-4 5.2L V10 engine, the new Spyder will accelerate from 0-100km/h in about four seconds - 0.3 seconds slower than the hard-top.
The Gallardo LP560-4 Spyder comes standard with the six-speed e-gear sequential transmission, which like the coupe has been revised to send more power and torque to a lighter and more efficient 4WD Viscous Traction system. Chassis stiffness and brake components have also been improved.
Pricing is expected to be released closer to the car's sales launch planned for early next year. Expect it to be significantly higher than the $201,000 sticker of the hard-top.
By
Motor Authority