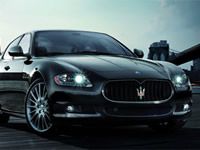 Luxury Cars:
Late last year we saw Maserati introduce a new performance "S" variant of its already sporty Quattroporte GT, and now the Italian carmaker has released the first details of a similar model based on the recently revealed 2009 Quattroporte facelift. The new car is the Maserati Quattroporte Sport GT S, and it is set to make its world debut next month at the Detroit Auto Show.
While the facelifted Quattroporte and Quattroporte S make do with a 400hp (298kW) 4.2L V8 and a 430hp (320kW) 4.7L V8 respectively, the new Sport GT S produces 440hp (328kW). The small power bump is courtesy of a high-flow exhaust system, which comes with an adjustable valve to keep the engine muffled around town and let loose once in the open country.
Along with the engine upgrade is a lowered suspension set-up, stiffer springs, and new shock absorbers. The Quattroporte's ZF six-speed automatic transmission remains, however, in the Sport GT S the paddle-shift operated 'box receives new management software that allows for quicker gearshifts.
Inside, the car's usual wood panels are replaced with carbon-fiber pieces, while the seats are covered in a mix of leather and Alcantara. The exterior, meanwhile, only receives subtle updates such as blacked-out headlight surrounds and a darkened grille.
The first vehicles are expected to arrive in U.S. showrooms shortly after the Detroit debut, and according to Edmunds pricing will start at $138,400 - including a $2,600 gas-guzzler tax and a $1,800 destination charge. This is only $1,000 less than the stunning GranTurismo S, which made its debut earlier this year.
By
Motor Authority