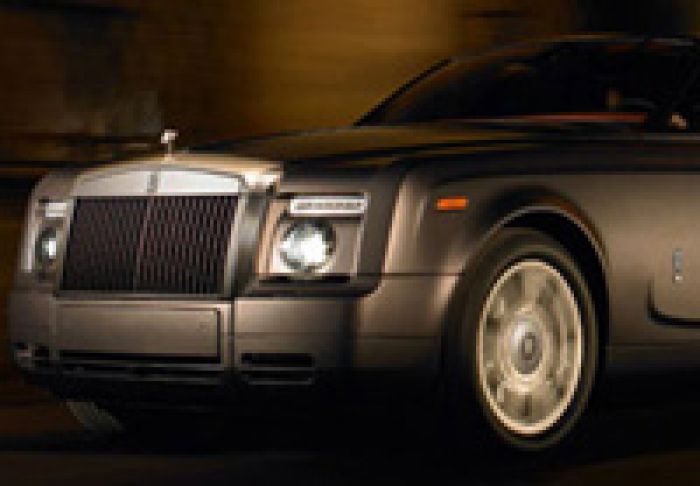 Rolls-Royce Phantom Coupe:
The making of a Rolls-Royce automobile is not a simple task. Each step is a labor-intensive effort that brings out the best of numerous highly skilled craftsmen at the Goodwood manufacturing plant. There are no shortcuts. Any circumvention is intolerable when the mission is to produce a vehicle as close to perfect as possible. This painstaking devotion to every detail has kept the Spirit of Ecstasy proudly perched at the front and center of all Rolls-Royces since 1911. The tradition carries on with the new Phantom Coupe.
It is wise to always be responsible when dispensing adjectives flowingly. Words such as exquisite, lovely, beautiful, or superb may leave expectations that cannot be fulfilled. Flowery verbiage aside, there is no such problem with the Phantom Coupe. It comes as no surprise that this vehicle, from any viewpoint, is excellent.
The Phantom's V12 fuel-injected engine accelerates the coupe from zero to 60 mph in 5.7 seconds, with a top speed-which, of course, is governed-at 149 mph. These are very impressive stats for a four-door car that is nearly 230 inches long and weighs more than 2.5 tons. Rack-and-pinion steering coupled with front and rear ventilated-disk brakes, with intuitive variable-rate assistance ensure a smooth and safe ride on any road even in the most en clement weather. The new Rolls Royce Phantom Coupe also is offered in an extended-wheelbase model.
The only perceptible chink in the Phantom's ubiquitous intrepidness is in fuel consumption in urban areas at only 12.2 mpg. On the highways, it operates much more efficiently at 25 mpg.
A lot of bull goes into the making of a Rolls-Royce Phantom Coupe. Actually, up to 18 separate bulls' hides are used in the supple interior that is offered in 13 shades. The veneer wood panels, which take up to one month to prepare before installing, reflect like mirrors and are offered in six shades. The Lexicon entertainment center, which consists of 15 speakers and a nine-channel amplifier, is on parity with the sound quality a recording studio. The six-inch LCD screen of the entertainment center is ingeniously concealed behind the clock in the dashboard.
There are 17 standard exterior shades offered, and a rainbow of bespoke color options as well, ranging from creamy purple to olive green to hot pink. See the color palette on the company Web site to view the myriad selections available. It takes between five and seven days to complete the seven-step paint and polishing process.
There are many reasons attributable to why Rolls-Royce Motors Ltd. is viewed as the manufacturer of the world's most luxurious automobiles. The new Phantom Coupe adds one more layer to the prestigious firm's distinguished pedigree.
For more info, visit www.rolls-roycemotorcars.com.
For LxM James Rothaar