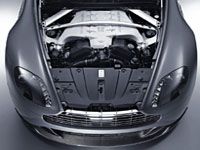 Luxury Cars:
Aston Martin will unveil one of the fastest production cars in its 95-year history at next month's Geneva Motor Show in the form of the new V12 Vantage coupe. The latest addition is based on the current V8 model but Aston Martin engineers have managed to shoehorn the mighty 6.0L V12 engine from the DBS flagship into the Vantage engine bay.
Output has been left untouched, which means the V12 churns out up to 510hp (380kW) and 420lb-ft (570Nm) of torque. This is enough to propel the car from 0-100km/h in just 4.2 seconds - 0.1 seconds quicker than the DBS - and allow it to reach a top speed of 305km/h. Drive is sent to the rear wheels via a six speed manual gearbox.
Designed for the focused driver, numerous components from the standard V8 Vantage were either replaced or enhanced for application in the V12 model. For example, engineers have added a new limited slip differential, a final drive ratio of 3.71:1, and an alloy torque tube with a lightweight carbon-fiber propeller shaft.
Engine airflow is improved by an intake bypass that opens up at 5,500rpm, along with a revised induction system and re-profiled inlet ports. The V12 unit is 100kg heavier than the V8, but thanks to all the weight saving measures the car's kerb weight has only increased by 50kg and comes in at 1,680kg.
The suspension consists of independent double wishbones front and rear, new coil springs, an anti-roll bar and monotube dampers. This sits on a set of 19in forged alloy wheels wrapped with Pirelli P Zero Corsa tires. Stopping power comes from ventilated carbon-ceramic discs with six-piston calipers up front and four-piston biters at the back.
Changes to the standard body include a bevy of enhanced aerodynamic and cooling aids, such as the new front splitter, bonnet louvers, a small boot lid spoiler, and an aggressive rear diffuser.
The V12 Vantage will be built at Aston Martin's global headquarters in Gaydon, UK, alongside the DBS, DB9 and V8 Vantage model lines. Deliveries of the car are expected to start during the third quarter of the year and pricing will be revealed at next month's Geneva event. Production will be limited to less than 500 units per year. Sadly, U.S. customers are likely to miss out as AutoWeek is reporting that legal issues for the engine and crash safety have ruled it out.
Motor Authority
JustLuxe
Contributor