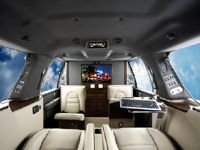 Luxury Autos:
The idea of the right location for a business goes hand in hand with the choice of transportation. The business world has evolved so much so that, most businesses are working hard to keep up with the technology that is indispensable to their business. This includes making the technology mobile and readily available for use wherever work happens to be.
Many companies use corporate limousines as a preferred method of transportation for their executives and for other high ranking personnel who need to stay connected and working even when traveling. The limousines emphasize appearance, comfort and amenities.
The new Mobile Office SUVs such as the Cadillac Escalade, the Lincoln Navigator, Ford Expedition, Mercedes GL, and Infiniti QX56 are a great addition to non stretch luxury cars. The customizations of the SUV Mobile Offices are prompted by the demands and the need to keep in touch with life and to work from anywhere in the world. These Mobile Office SUVs are not exclusive to corporate execs or to businessmen or businesswomen only; private owners can also enjoy all the benefits these luxury cars have to offer.
The personalized all-leather interior and the equipment installed in the Mobile Office SUVs are of superior quality. The reclining seats are complimented by arm rests and sliding foot rests for absolute comfort. The seats are powered by electricity and can be set for back massage. On the side panels of the comfortable chairs, two folding desks are mounted and can be used for work. The Power Ports will run the laptops anytime they are needed. The 32" multipurpose Flat Screen TV can be used to watch TV, play games, watch a movie and it can also be used as a computer monitor. There are two additional 7" Flat Screen TVs mounted on the right and the left pillars.
Music has always been a source of enjoyment, a mood lightening, an ambiance maker and a moral lifter. Music can help people to loosen up and to communicate better. When it is needed to relax while in transit or while working, it is available at a touch of a button.
It is fair to say that tech people are working to improve the workplace technology for tomorrow's global business. When the new, indispensable and important gadgets get here, they will also be built in the Mobile Office SUVs because, it is our mission to make sure that sumptuous corporate and private transportation have the amenities needed for work and for travel.
For LxM Josée Hanlon
www.LimousinesWorld