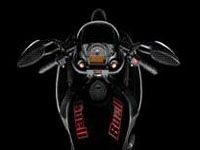 Luxury Vehicles:
Many believe that who you are is defined by what you drive - your ride, your wheels and your "whips." Whether you are off-roading with a motorcycle or cruising down the highway in the latest sedan or a vintage classic auto, it's all about performance, technology, custom-touches and aftermarket parts.
These three haute wheels below are some of the latest and greatest ideas for motor enthusiasts-those with the need for speed or those with an appreciation for a handcrafted original.
Buell 1125CR
Hitting the market at $11,695 MSRP, the Buell 1125 CR motorcycle
(www.buell.com)
has been described by the company as "part superbike and part streetfighter." This sexy bike doesn't just look good; it delivers a powerful combination of performance and technical flair. It features a featherweight chassis with a mean 1125cc liquid-cooled, V-Twin engine that offers fierce acceleration no matter what gear you use. Its class-leading weight-to-horsepower ratio means that this bike delivers the sport ride of a superbike with the stability and precise handling that is essential for street and highway rides.
Now that you know it delivers on the inside, let's talk about its outer beauty. This bike with attitude comes with many futuristic details, including radical headlights and a compact instrument panel. Its sleek appearance also features Clubman-style bars and a minimalist flyscreen. You'll definitely look cool as you hit the road in this mean machine.
Volkswagen 2009 CC Sedan
For a touch of luxury and style at an affordable price point, Volkswagen's brand-new 2009 CC
(www.vw.com)
is a must-have. Blending the sports car dynamics and dimensions of a coupe, this ride offers sedan sophistication and comfort. Its distinguished exterior has frameless doors, a cross-strut chrome grille, panoramic sunroof, and four designs for 17-inch or 18-inch wheels. The interior will wrap you in luxury-from the leather-wrapped steering wheel and plush ergonomically-formed sports seats to a fold-down consol and new navigation system with Media Device Interface that works with a number of personal media devices and parking assistance controls.
There is a host of safety features, including an Electronic Stabilization Program, Electronic Differential Locking, Antislip Brakes, and multistage front air bags, side air bags, and curtain air bags as well as a LATCH system, three-point safety belts, and a tire pressure monitoring system. The CC's sleek curves and aerodynamic design make it one-of-a-kind on the road for anyone that wants to be noticed and must have the latest and greatest. You are also sure to enjoy the added value of Volkswagen's Carefree Maintenance Program that covers standard maintenance for three years of 36,000 miles. Volkswagen's CC starts at $26,790 with an extensive range of extras and sport and luxury packages to individualize and personalize your vehicle.
The Lexus HS 250H Luxury Hybrid
Now that Mercedes-Benz has introduced its version of an eco-friendly car, Lexus
(www.lexus.com)
has followed suit with the most fuel-efficient and environmentally sound vehicle in the Lexus line-up. Debuting at the Detroit Auto Show, the 2010 HS 250H utilizes carbon-neutral Ecological Plastic materials and is sure to attract the luxury shopper, looking to shift their vehicle collection into hybrid territory.
Everything about the Lexus HS 250H is geared toward optimum efficiency to maintain a minimal carbon footprint. Not only will you feel good about driving this car, but you will look "haute" as well. The car is beautiful inside and out with a luxurious interior boasting top-of-the-line gadgetry, including Bluetooth technology, voice recognition, iPOD connectivity, and the Hard Disk Drive (HDD) Navigation System. This vehicle is cool and refined but has the power and performance to deliver in the city and on the highway. Look for this 2010 sophisticated and environmentally responsible ride to be unveiled in Lexus dealerships nationwide late summer 2009.
AutoTrader Classics
For those auto enthusiasts that have it all, including garage space to spare, AutoTrader Classics
(www.autotraderclassics.com)
may have that rare find that you have been searching for in terms of class, distinction, and age. This Internet site features one of the largest marketplaces for classic cars and trucks, so there's sure to be something of interest among the 50,000 vehicles listed by numerous reputable retailers from across the United States.
The site offers real gems. Just recently, a St. Louis-based retailer showcased a 1937 Cord 812 SC Phaeton for $250,000, which has been named as one of the eight greatest examples of automotive design in this century by the Metropolitan Museum of Modern Art. For the jet set there are also a number of high-brow classics, including Rolls, Jaguars, and Aston-Martins.
AutoTrader Classics also boasts a wide selection of American muscle cars. You will be in revvin' heaven' with such car options as a 1971 Plymouth Hemi Cuda, which has been fully restored to its original Plum Crazy Purple - available for $89,000. For those who want to go a little retro, grab your gold chains, undo the buttons on your shirt, and slip into a 1962 Ferrari 250 GTE 2+2. This vehicle includes a full service history and is available from a Connecticut-based retailer for $165,000.
The Luxe List product, service and travel review editor Merilee Kern scours the luxury marketplace for new and captivating "musts." Product submissions accepted via e-mail at Merilee@JustLuxe.com.
- Merilee Kern
JustLuxé.com's "The Luxe List" Executive Review Editor