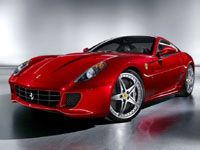 Luxury Cars:
Though the California convertible has grabbed almost all the attention paid to Ferrari in the media recently, the 599 GTB is still just as formidable and attractive as it was the day it hit the streets. For some extremists, however, even a car as superb as the 599 isn't completely up to scratch.
Common criticisms of the 599 is that the car leans too heavily into corners when pushed to the limits, which in turn reduces turn in and leads to slower lap times. Ferrari engineers have analysed the problem and as they have done with the 575 and 612 before it, the 599 can now be ordered with a new track focused handling package. Called the Handling Grand Turismo Evoluzione (HGTE), the new upgrade was first revealed at March's Geneva Motor Show and has now been finally tested by the guys at Auto Motor and Sport.
The HGTE package is designed to deliver even sportier, more dynamic driving. The technical modifications introduced include a modified set-up with stiffer springs and rear anti-roll bar as well as new calibration settings for the magnetorheological shock absorbers when the manettino is at its sportier settings. The ride height has been lowered, which in turn lowers the car's centre of gravity. The package also includes specifically optimised tires featuring a compound that offers even better grip.
Furthermore, the car's electronics have also evolved to ensure even more prompt response to driver commands. The F1 gearbox's shifts are now even faster in high-performance settings, while a new engine software strategy has improved accelerator response.
The end result is a 0-100km/h time of just 3.7 seconds and a new lap time for Ferrari's famed Fiorano test track of 1m 26.5s - only 1.5s slower than the lighter and stiffer F430 Scuderia street-legal race car.
From a styling point of view, the HGTE package includes some distinctively sporty exterior and interior features with carbon-fiber widely used throughout the bodywork. The 20in split-rim wheels are new, and are available with a special diamond-cut matte silver finish. The rear diffuser is finished in matte black to underscore the car's new set-up and highlight the chromed tail pipes. The cabin is sportier, too, thanks to a mix of full-grain leather, black Alcantara and carbon-fiber trim. Embroidered in contrasting stitching on the headrest are a Prancing Horse and the words "Handling GTE."
Below is a list of Fiorano lap times for some important Ferraris:
F2008 F1 car - 59.1s
F430 Scuderia - 1m 23.9s
Enzo - 1m 24.9s
599 HGTE - 1m 26.5s
F50 - 1m 27s
F430 - 1m 27s
F40 - 1m 29.6s
Motor Authority
JustLuxe
Contributor