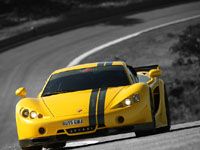 Private Racetrack Clubs:
In case you have not noticed, the pages of JustLuxe are filled with reviews and news about the latest supercars, high-performance vehicles, and luxury automobiles! Until now, I have always wondered where does an owner of a car capable of accelerating to 150 mph or more go to just let it all hang out? There must be a way to remain in third gear for more than a flash without the risk a traffic ticket each and every time! The evolution of the luxury lifestyle has led to the advent of a new strain of country clubs that just may be the ticket to a very satisfying solution for owners of high-performance cars.
Country clubs with raceways are being built for members with special driving needs. While many country clubs have catered to golf enthusiasts for years, these country clubs similarly are reaching out to high-performance automobile lovers who seek quality track time as passionately as golf lovers want to play on the finest championship golf courses.
These private clubs provide driving academies, performance-enhancing driving courses, and professional-style tracks circuits in a luxury-resort setting designed to offer a vacation-like environment for the entire family to enjoy. These social clubs for drivers and like-minded car enthusiasts provide stomping grounds where members can experience the thrill of driving their own cars or select from a stable of high-end vehicles provided by the club to take on a private course that is fit for professional motorsports competitions. Members of such clubs may also own racecars that can only be driven on private tracks, such as an Ariel Atom or a Radical Sports Racer.
Many of the country clubs also have full social calendars and sponsor various motorsports events year round. Here is a closer look at six top raceway resorts in the mix.
VIR Motorsport Country Club
The VIR Motorsport Country Club is located in Alton, Va., which is between Danville and South Boston. The driving club has its get-togethers at the heralded VIRginia International Raceway. The storied track, a favorite among both professional racecar drivers and driving enthusiasts, is among the first raceways to offer a luxury-resort on the property. The accommodations for visitors are lavish and provide extraordinary views of the racecourses. It is a unique experience.
The villas, which are rented as whole units or by the floor, are two-story residences with more than 2,000 square feet of space. The decorum of the ViR's Plantation Clubhouse replicates the style of the 1940s South with uncanny panache. The country club is an all-encompassing luxury-lifestyle enclave fit for family vacations, on-track getaways, and the environment works well for special events both personal and corporate. This is a sanctuary for car lovers and friends.
There are four driving courses on the pastoral 1,200-acre property. The courses include two separate paddocks (complete repair centers) with timing towers, covered tech bays, a pro shop, classrooms, and a restroom with showers.
The VIRginia International Raceway hosts major motorsports events year round. Along with driving privileges on the VIR circuits, members of the VIR Motorsport Country Club can drive on the track at the New Jersey Motorsports Park. There is a pact in place where members of either club have access to both circuits.
Palm Beach Driving Club
Members of the Palm Beach Driving Club head to the all-new Palm Beach International Raceway for their track time and socializing. The raceway is among the top motorsports parks in the nation with drag racing, road racing, karting, and performance testing areas onsite.
This is a playground for supercars and proud owners to matriculate and accumulate track time. While the driving experience is first and foremost, this is a luxury-lifestyle enclave of variety with great proximity to many of South Florida's finest attractions.
Members of the Palm Beach Driving Club community have a cigar club, fine-dining options, and concierge-assisted planning to put members front and center for all activities in the area. The Palm Beach International Raceway is located near various luxury hotels such as the Ritz-Carlton, the Breakers, and the Jupiter Beach Resort & Spa just to name a few.
Drivers Club at New Jersey Motorsports Club
The Drivers Club at New Jersey Motorsports Park is gearing up with an all-inclusive country club for automobile enthusiasts already includes two world-class road courses that for visiting drivers in search of hands-on driving experiences. Members of the Drivers Club can enjoy the Thunderbolt and the Lighting driving courses. This is only is only the beginning, as a three-phase upgrade of the NJ Motorsports Park is under way.

The exclusive Drivers Club will feature a clubhouse, a sports pavilion, and an activity center with tennis courts. Luxurious private villas will be built overlooking the course. Each villa will have its own second-floor deck to provide trackside views of Grand Am, Vintage Car, and AMA events. The 700-acre property development will also offer personal garages for car lovers to work on their joyrides.
Motor Sport Country Club of Colorado
Just an hour away from the city of Denver, the Motor Sport Country Club is a social club for motor-sport enthusiasts, car lovers, and like-minded individuals in search of their own unique luxury-latent world. The Motor Sport Country Club is a work in progress for that affluent crowd that will feature trackside residences with garages, a karting course and an off-road track for additional high-speed recreational activities, and a high-performance driving school with pro instructors.
Other off-track amenities for the ultimate motor-sport country club include a members-only bar, a wine-tasting room, a cigar lounge, and a gourmet restaurant. An equestrian center will be on the property as well as a pool, a spa, and a fitness center.
This will be a luxury-lifestyle destination on parity with a five-star-level resort or a very exclusive country club. The property is being built on a 2,600-acre development.
Monticello Motor Club
Ninety-minutes from Manhattan yet a world apart from NYC is the Monticello Motor Club. It is the driving circuit that distinguishes a driving club and attracts members. There are more than four miles of exquisite track with more than 20 challenging turns and straight-aways up to 1.5 miles in length. Club members can bring their own vehicle or drive an available Formula One, vintage, classic, or supercars from the MMC's vast fleet.
Top-notch professional instructions and lots of track time are offered year round. The private driving club also features a heliport, vehicle storage, fine dining, a clubhouse, and a spa for members to enjoy. As in most private driving circles, concierges will be available to assist members in getting the most out of their visits.
Pioneer members of MMC will watch the club grow, as there are plans in place to develop 400 additional acres, including the addition of "Autominiums," which is a new way of describing two-bedroom condominiums with garages and trackside views. Additionally, there are plans to raise a luxury hotel with a conference center, an off-road and a karting course, repair and tuning centers and more storage space for cars.
Ascari Club
The Ascari Club is a private driver's club located in the province of Andalusia, which is east of the Atlantic Ocean and north of the Mediterranean Sea. The site is a private oasis where personally owned vehicles or hand-built (and scary!) Ascari racecars can be driven to the max.
International racecar driver Klaas Zwart designed the specially built circuit with both safety and excitement in mind. The Ascari Club track is used by the prestigious Mercedes-AMG Driving Academy. Additionally, the club sponsors members-only events year round.
For
JustLuxe
James Rothaar
VIR Motorsport Country Club
VIR Motorsport Country Club
VIR Motorsport Country Club
VIR Motorsport Country Club
VIR Motorsport Country Club
VIR Motorsport Country Club
Palm Beach Driving Club
Palm Beach Driving Club
Palm Beach Driving Club
Palm Beach Driving Club
Palm Beach Driving Club
Palm Beach Driving Club
Drivers Club at New Jersey Motorsports Club
Drivers Club at New Jersey Motorsports Club
Motor Sport Country Club of Colorado
Motor Sport Country Club of Colorado
Motor Sport Country Club of Colorado
Motor Sport Country Club of Colorado
Monticello Motor Club
Ascari Club
Ascari Club
Ascari Club
Ascari Club
Ascari Club