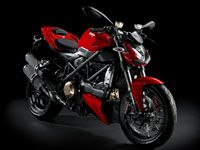 Luxury Motorcycles:
With Ducati recently announcing its 2010 models, it reintroduces an argument that could have motorcycle and automobile enthusiasts going back and forth forever. Many savvy motorcycle followers are adamant that Ducati is the best thing on wheels ever made in Italy despite its sharing of the land with the likes of Ferrari, Lamborghini, and Maserati. The company, which began in 1926, has won more motor-sports events than any other brand worldwide. While some changes have been made for 2010, the organization is confident its championship legacy remains intact.
The 2010 Superbike has three changes over the 2009 version. There is an aluminum cam belt tensioner pulley and a brighter LED illuminated dashboard. A 30 mm mirror-extension kit is the third new feature for 2010. For colors, a Nicky Hayden Edition special graphics option is available as well as bikes in red, pearl white, and matte black. The Nicky Hayden model, at $14,495, is the most expensive and black matte comes in with an MSRP of $12,495.
While the 2010 1198 and 1198 S models are mechanically the same as 2009, there is a new limited-edition model, the 1198 S Corse Edition, with a few twists compared to the standard 1198 S. An aluminum gas tank reduces weight by a kilogram despite the tank being larger and capable of holding an extra two-thirds gallon of fuel. Additionally, a rear paddock stand is included as well as Ducati Corse special livery. It is a quieter with a Termignoni slip-on exhaust. The MSRP of the 1198 S Corse Edition is not available. However, the 1198 and 1198 S are priced at $16,495 and $21,795, respectively. The bikes come in red, black, pearl white and have a red frame.

The 2009 1098 R Troy Bayliss Edition, which is supplanted by the 1198 R, is mechanically identical to its predecessor. The 2010 Monster 696, with an aluminum gas tank, is lighter this year and has four-way adjustable brake and clutch levers and a larger heat shield, which makes for a more comfortable ride.


Looks and comfort have been upped on the 2010 Monster with a silver cylinder coating and larger heat shields. There also is an optional ABS braking system. It comes in red, silver, and black. The Monster comes in at $11,995 and $12,995 for the ABS option. The Monster 1100 S has the same changes as the Monster, including an optional ABS braking system. Add $1,000 to each of the Monster 1100 S packages. The Sportclassic GT 1000 is mechanically unchanged from 2009. The 2010 Streefighter and Streetfighter S were released in May 2009. The MSRP for the Streetfighter is $14,995, while the Streetfighter S is priced at $18,995.

The Multistrada 1200 is an entirely new bike that is offered in three options: ABS, S Touring, and S Sport. The ABS is available in red and white, while the "S" packages come in red, white and black. The MSRP of all three is $14,995. Other new model releases for 2010 include the Hypermotard 796, the Hypermotard 1100, and the Hypermotard 1100 EVO SP.

Ducati is competing in the 2009 World Superbike Championship and the 2009 World MotoGP Championship. It won the title in the 2008 World Superbike Championship and has won it 15 of the past 18 seasons. For more information about the company, visit Ducati.com or DucatiUSA.com.

For JustLuxe James Rothaar

Multistrada 1200 S

Multistrada 1200 S

Multistrada 1200 S

Superbike 1198 Corse Special Edition

Sportclassic GT 1000

Monster 1100 S

Hypermotard

Streetfighter S

Streetfighter S

Streetfighter