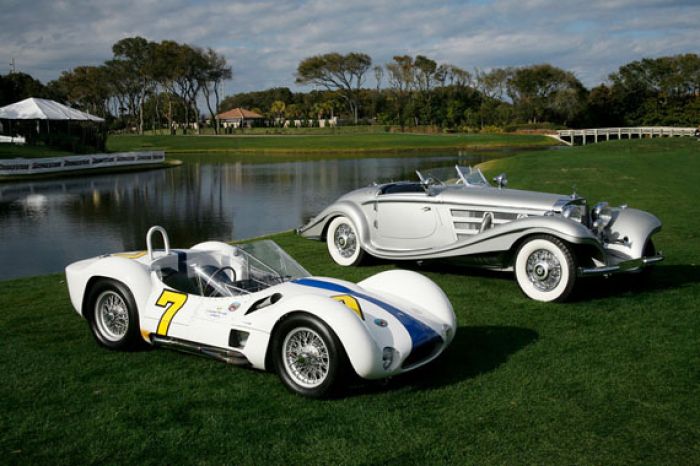 Luxury Car Shows:
Fifteen years deep and its reputation as one of the nation's most significant events in vintage and classic car circles continues to rise. The recently held four-day Concours d'Elegance showcased 275 extraordinary vehicles to more than 18,000 attendees.
Best of Show winners were a sliver 1937 Mercedes-Benz 540K and a 1960 Maserati Tipo 61 Birdcage. The silver Mercedes took the Concours d'Elegance trophy, and the Maserati drove home with the Concours de Sport award.
NASCAR legend Richard Petty, the Concours' honoree this year, revved up the festivities by bringing along nine of his "used" stock cars. This year's show paid homage to the last Cuban Grand Prix held in 1960. The 1960 Maserati Tipo 61 Birdcage that won the Concours de Sport trophy is the car that was driven by the winner of the '60 Cuban Grand Prix, Sir Stirling Moss. Carroll Shelby, drag racer Don "Big Daddy" Garlits, and racing driver Sam Posey also were special guests.

Sir Stirling Moss was going to be a featured guest at the show along with the Maserati. Unfortunately, he was injured at home, in his garage, and suffered two broken ankles, four broken bones to his foot, skin abrasions and four chipped vertebrae. He is now comfortable and recovering in a London hospital after surgery to both ankles, according to a recent post on Stirling Moss' Web site.

Calendar notes: The 2011 show is scheduled for March 11-13, at The Golf Club of Amelia Island at Summer Beach. Visit AmeliaConcours.org for information.

Photo credit: Rashba.com

Photo credit: Rashba.com