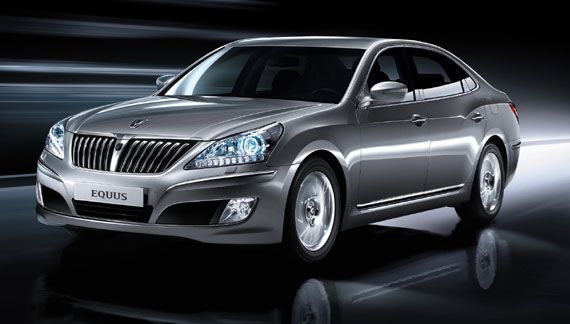 Luxury Cars:
Coming on the heels of the Hyundai Genesis Sedan, which was named last year's North American Car of the Year, the
2011 Hyundai Equus
is poised to become the next premium luxury sedan to hit the U.S. market.
The much-anticipated Equus redefines luxury with its sleek contours and lines, elegant interior seating, and state-of-the-art entertainment, connectivity and driving experience technology. Among the sedan's many conveniences is the Equus Driver Information System (DIS), which is designed to deliver an uncomplicated driving experience. Additional comforts include forward-view and reverse cameras, LED turn signal indicators, HID headlamps, an in-dash LCD screen, XM Satellite Radio, a 17-speaker premium audio system with iPod, USB and Bluetooth connectivity, as well as leather Alcantara trim and temperature controlled seats.
Combining form and function, the sedan's performance and powertrain is equally as impressive as its overall aesthetics. The Equus comes equipped with a powerful 4.6-liter Tau V-8 engine, which delivers 333 pound-feet of torque and more horsepower than other luxury sedans in its class, including the Lexus LS460, the Mercedes S-550 and the Audi A8. The Equus is capable of going from zero to 60 mph in less than 6.4 seconds.

If you're in the market for a high-performance vehicle that has all the bells and whistles of a leading luxury sedan ― but at a fraction of the price ― the 2011 Hyundai Equus is clearly a smart alternative. With a starting price of just $50,000, the Equus is expected to hit the U.S. market late this summer.