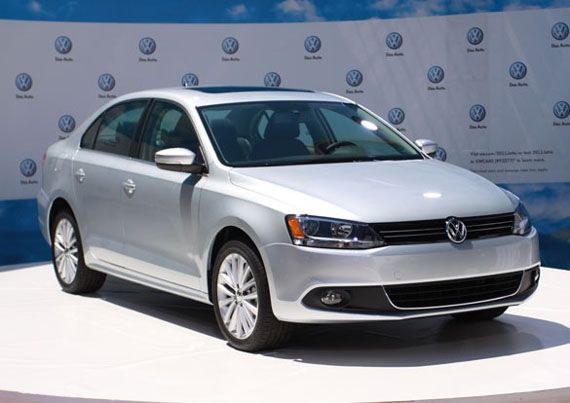 Luxury Cars:
Volkswagen, Europe's largest automaker, recently announced the world debut of its new 2011 Jetta NCS. The new compact sedan was well-received by a crowd of eager onlookers as it was unveiled for the first time in
New York City's
Time Square.
The North American model is much larger than its predecessor, offering a wide array of new features, including a new wheelbase, a new base engine, as well as additional engine options available exclusively in the United States and Canada. In addition to the 2.0-liter TDI® Clean Diesel base engine, a 2.0, 2.5 R5, 2.0 TSI, and a 2.0-liter GLI version are also available. The 2.0-liter TDI® Clean Diesel base engine with common rail injection delivers 236 lbs./ft. of torque and is capable of achieving 0-60 mph in just 8.7 seconds. While the engine runs as quietly as a gasoline engine, it still yields the power one would expect from a luxury sportscar.
"The all-new 2011 Jetta is a class-up driving experience with the kind of styling, design and power under the hood normally found in more expensive luxury cars. At an extremely attractive price, this car is sophisticated, fun to drive and practical," according to Stefan Jacoby, CEO of Volkswagen Group of America, Inc.

In addition to the powerful engine options, the 2011 Jetta boasts an equally impressive body design. As part of the new Volkswagen "design DNA," the compact sedan features muscular styling with defined horizontal lines, a high-gloss black radiator grille, trapezoidal headlights, a tray-shaped front spoiler, and sporty shoulders. With the sedan's extended wheelbase, the NCS offers a more comfortable five-seat layout with 38.1 inches of legroom, a 2.6-inch gain from the previous model. Interior accents include intuitive controls and well-arranged instruments, such as a new steering wheel design, an ergonomic gear shift grip, and a slightly inclined center console with newly designed controls for climate, radio and navigation systems. In an effort to increase the sedan's versatility, the rear bench seatback is split 60/40 and folds, and as an added feature, the tailgate was designed to open from inside via a remote unlock switch.

The 2011 Jetta hits the U.S market this October, and while there are no confirmed reports of pricing as of yet, the starting price is expected to be reasonable considering the sedan's luxurious features and creature comforts.