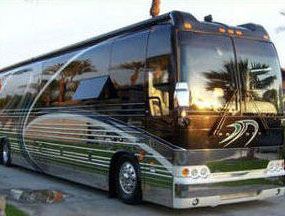 Luxury RVs:
Those traveling eclectics who take to the roadways their way in super-sized RVs are in the fast lane on big and rich
luxury traveling
. Recreational vehicles of this magnitude make traveling a "trip" within a vacation, that is, as long as you don't have to park it in a 10-space parking lot of a strip mall. But if you do, most do come equipped with camera-assisted parking.
The highly customized land-yachts are deluxe homes on alloy wheels that provide plentiful creature comforts. From a kitchen to a dining space to a gym and spa-like bathrooms and showers, each one is unique to its owner. Extravagant extras include, but definitely are not limited to, game stations, wireless Internet, satellite hookups for big-screen TVs, recessed lighting, desk space, Internet, and washers and dryers, too. When parked, many of the RVs get even homier with patios, awnings, electric windows, and extensions.
These cavernous RVs are compliments of Luxury MotorHome Sales, a leader in this specialty luxury vehicle marketplace. HGTV is featuring selected RVs from Luxury MotorHome's showroom and showcasing those on its Web site. They get around!