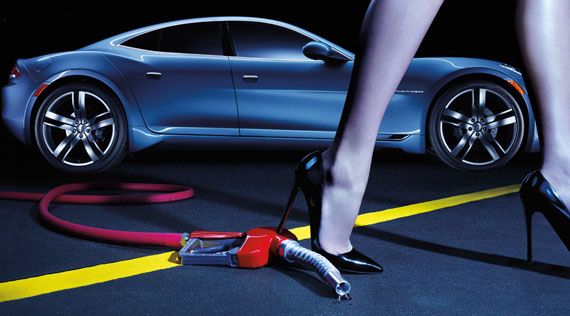 Luxury Cars:
Irvine, California-based Fisker Automotive will debut the first factory-built Karma at the upcoming 2010
Paris
Motor Show this October. The makers of the luxury-latent premium plug-in hybrid vehicle also will provide info on the expansion of its global importer network and international marketing campaign, "Pure Driving Passion," from Paris.
The Karma sounds like a luxury green dream driving machine accelerating toward its end result. It is a four-door, four-passenger luxury car that provides buyers with a viable alternative vehicle that offers better efficiency and lower emissions than the best hybrids on the market. Henrik Fisker, co-founder and CEO of the company, is the executive design director of the Karma. Mr. Fisker is the designer of some of the world's most desirable sports cars, including the BMW Z8 and Aston Martin's V8 Vantage and the DB9. Since introducing the Karma as a concept car in January 2008, Fisker has become a prominent industry leader of the development of luxury plug-in hybrids.
"We had a chance to change the premium vehicle segment with a new kind of vehicle and a new brand that appeal to consumers who are passionate about the environment, and who wish to drive a beautiful car that reflects their desire to lead a lifestyle of responsible luxury," said Mr. Fisker. "We are very excited to be introducing the first factory-built Karma luxury plug-in hybrid in Paris, a city known for inspiring its own passions."

The Fisker Karma plug-in hybrid delivers power, style, luxury, and fuel-efficiency. The 300 kw (403 hp/408 PS) Karma exceeds 60 mph in 5.9 seconds and has a top speed of more than 120 mph and a yearly average of 100 miles per gallon. With the expansion of a global marketing plan in place, Fisker's goal is to ultimately produce 100,000 cars per year.

The 2010 Paris Motor Show (Mondial de l'Automobile), which runs from October 2-17, at the Paris Expo in Porte de Versailles, should be absolutely electrifying!

Fisker

www.fiskerautomotive.com