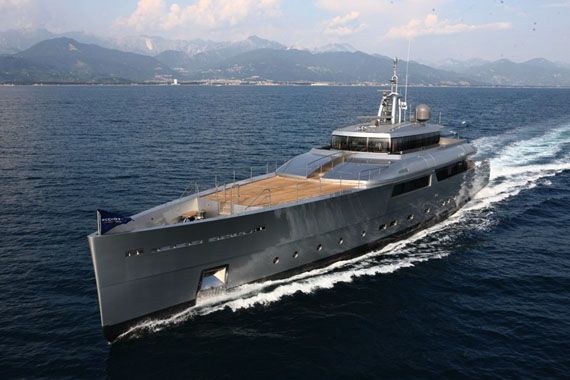 Luxury Yachting:
For $1 million per month you can now charter the world's coolest superyacht, the 164-ft. Exuma built by
Perini Navi
, in the South Pacific. The Exuma, the first motor yacht from the world-famous builder of the Maltese Falcon, and can accommodate ten guests in five luxurious staterooms. An unnamed celebrity has already booked passage on the chic ship. The aluminum-hulled Exuma, which will also be available for charter by the week for $250,000 (pending availability) is the first model in the newly-launched Picchiotti Vitruvius series, a collaboration between Perini Navi, Vitruvius Ltd. and famed naval architect Philippe Briand.
The Exuma was recently awarded was the Rina Green Plus Platinum certificate in recognition of her proven commitment to environmental excellence, as well as the Most Innovative Yacht of the Year award at the 2010 World Yacht Trophy, and she also took home a prize at the 2010 Nautical Design Awards. Interior furnishings for the were designed by Perini Navi's in-house team with a focus on classic maritime style tradition, using oak, teak and Italian marble. The sleek ship has a range of 5,500 nautical miles at 12 knots and comes equipped with a fully customized 16.4 ft. amphibious vehicle and a Hov Pod 12 ft. hovercraft housed in two tender garages with gull-wing doors.