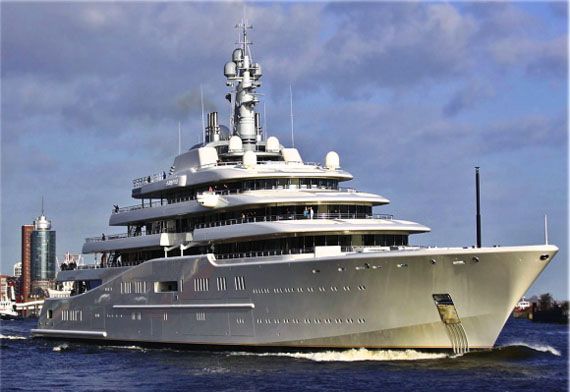 Luxury Yachts:
It looks like Christmas came early for Russian billionaire Roman Abramovich – except that it's actually a year late. The oligarch and owner of the the
UK
's Chelsea Football Club has finally taken delivery of his new "gigayacht"
Eclipse
, which measures anywhere from 533 ft. to 557 ft. (depending on reports), but is without a doubt the world's largest privately owned yacht. The cost of the behemoth has also been variously reported as $500 million – $1 billion, but there's no disputing the fact that it's the world's most expensive private yacht either. The Eclipse will cost an estimated $50 million a year to maintain and each fill-up at the gas station will set one of the world's richest men back a cool $650,000.
The Eclipse, built by Germany's
Blohm + Voss
, has been beset with problems accounting for the long delay. The yacht, which has space for 30 guests and 75 crew, reportedly features a military-grade missile defense system, armor plating, bulletproof windows, three helipads, two swimming pools and a wellness center. Snafus include too much vibration from the engines; disputes over the sourcing of exotic animal and reptile skins for the decor; an argument over who should pay for shifting the location of one of the helipads; difficulties with the French-made navigation system; and flaking paint on some of the decks, all of which have finally been resolved. The Eclipse is now said to be heading for the Caribbean where her owner can finally enjoy her in the sun.