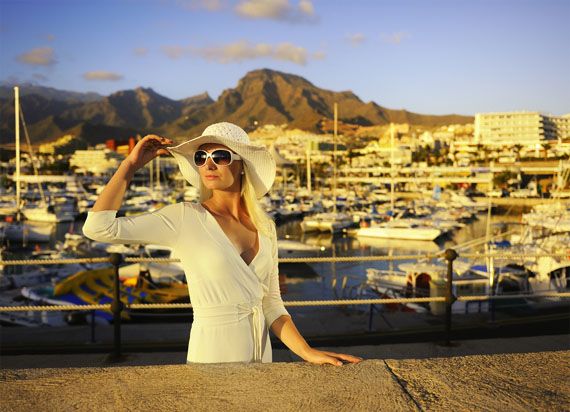 Chartering a yacht
is among the most preferred luxury vacations for worldly travelers. However, with so many options available, choosing the best yacht could be challenging to say the least.
Before taking that plunge, it is best to start with the basics and work from there. How many passengers will there be? What is the itinerary? Is this a sports-fishing expedition? Do you want to do some island hopping, or is snorkeling and diving what you had in mind? A little forethought can go a long way in maximizing your pleasure.

Size Does Matter
Determining the size of the yacht to charter is a good starting point. The general rule of thumb is that two guests can occupy one cabin. So, if two couples are chartering a yacht, two cabins should be sufficient space to accommodate four guests comfortably.

Generally, the length of yachts can range from 38 feet up to more than 400 feet. The majority of yachts available for charter range from 75 feet to around 200 feet long. Smaller yachts, 40 to 75 feet, are usually chartered for short trips, such as a one-day or a two-day fishing trip. Yachts measuring 40 to 50 feet in length, such as the Rampage 38 Express, are good.

Thinking Big

An 80-foot boat with a full crew that accommodates up to 12 guests could cost $10,000 to $15,000 per day. Availability and season are factors to consider. The majority of private yacht charters are permitted a maximum of 12 passengers. A weekly rate to charter a superyacht large enough to accommodate more than 12 guests, with a full crew for a week, is a six-figure investment. Many of the superyachts that JustLuxe has reported on come in at around $250,000 or more.

Types of Yachts
Aside from small, medium and large vessels, there are motor yachts and sailing yachts. Sailing yachts do have engines but are predominantly powered by wind and the know-how of savvy sailors. A sailing yacht might range from 20 to 60 meters (approximately 60 to 175 feet).

Crews for sailing yachts mostly are based upon the size of the boat. A full crew for a 60-meter yacht could be as many as 16 staffers, including the captain. Two to five crewmembers are the norm for sailing yachts 60 to 100 feet long. A catamaran, which is a sailboat with two-parallel hulls that are held together by a single deck, is an option for those seeking a sailing experience with some built-in extra action.

Compared to other boats, the catamaran is very swift, reaching speeds as high as 20 mph. It is usually about 12 meters (40 feet) in length. The Lavezzi 40 is a good example of a luxury-catamaran offering.

Numerous selections are available in motor yachts. Many yacht-charting firms offer vessels from around 13 meters up to 83 meters. A crew of one, which is a captain only, is doable with a smaller yacht, whereas longer yachts require more skilled hands to smoothly maintain order.

A 30- or 40-meter motor yacht would generally require a full crew of six to eight members. An 83-meter (275 feet) luxury yacht could require 18 to 21 crewmembers.



Crew's Control
Chartering a yacht and being its captain, too, is also an option. It is known as a bareboat charter; "bare" meaning without a captain and a crew. While such a mode does provide the most freedom for the passengers, it also has highest level of risk.

Chartering firms will insist that at least two passengers onboard possess proven competency, which means a combination of experience and certifications, before granting such privileges.

Competence must be proven beyond question. Lightly bumping into a bumper of a car in a parking lot is one thing. Bumping into a dock with a $2 million yacht, even if it is a very, very gentle bump, would likely leave a big black cloud over the remainder of the trip. It is hard to have fun when a potential six-figure repair bill is anticipated.

Rest assured in knowing that any legit outfit would never allow this to happen to a client. Experience is the best teacher. Even a certification-course graduate is not qualified to instantly ascend to being a captain of a yacht.

The Real Deal

Tim Nelson of Seven Seas Yacht Charters, which is located in Nokomis, Florida, provided us with some excellent info on how to go about chartering a luxury yacht.

"Seven Seas doesn't really offer 'vacation or tour packages.' We view individual yacht charters as customized vacations. Once the trip is plotted, we, along with the crew, work with a client to establish an itinerary based on the guests' preferences," said Tim Nelson.

With Tim's assistance, we have put together a checklist on chartering a yacht. The objective is to have some guidelines to help simplify the decision-making process.

1. Determine your budget. It is very important to establish an amount before proceeding. "My idea of luxury may be the $700,000-a-week boat, while yours may be the $5,000-per-week package. Both are nice but obviously do not offer the same level of luxury features," said Nelson.

2. Provide specific dates and book in advance when chartering a yacht. Most firms require a minimum charter length of three days. Additionally, when a chartered trip is less than seven days, many companies will charge a premium for the charter.

3. It also is a good idea to book well in advance of the trip date. Some outfits prefer up to six months out to book it. This is not an ironclad industry standard. But it is a good benchmark.

4. Know the total number of guests and specify if children will be traveling. Some charter companies have a minimum age for children. It is important to note that crewmembers are not permitted to serve as babysitters because of potential legal ramifications. Children at all times will need to be under the supervision of one of the passengers.


5. Know your desired destination and the forecasted weather conditions of the area. The primary charter areas are the Mediterranean for the summer months and the Caribbean for the winter months. Greece and New England are excellent options for summer months. Florida and the Bahamas are nice for winter and spring seasons.

June 1 to November 30, which is the hurricane season, is not a good time for Florida, the Bahamas, or the Caribbean Islands. The representative of the chartering service should offer clients complete details on such matters.

6. Down payments of up to 50 percent are generally expected at the time arrangements are made. Many times deposits for mega-yachts are done via wire transfers. Some smaller yachts with minimal crews do not accept credit cards for down payments. In most cases, the balance owed is to be paid 30 to 45 days prior to the charter date.

7. Don't forget about the APA fees. APA stands for "advanced-provisioning allowance" and includes such items as the cost of fuel, food, wine, liquor, dockage, communication systems and so forth. This is normally 30 to 35 percent of the charter fee and is due in full 30 to 45 days prior to the charter date. If less is spent on the APA, the difference is refunded; and vice-versa if the amount is higher.

8. There are a few more additional costs to consider as well. Tipping the crew could range from 10 to 20 percent of the charter fee. While tipping is not as common in European countries, a gratuity of five to 10 percent of the total price is recommended. Additionally, a broker should inform clients whether its yachts are subjected to taxes.

Recommended Sources
Obviously, we strongly recommend Seven Seas Yacht Charters. This seaworthy firm offers yacht excursions worldwide in mono-hull sailboats, powered catamarans, or motor yachts that can accommodate as few as two or as many as 12 guests.

SSYC obtains appropriate vessels for trips involving any of the seven seas for seven-, 14-, or 21-day charters. The organization, with its 20-plus years of know-how, is firmly established in the yacht-chartering industry. Luxury mega-yachts, such as the Alexander and the Turama are approximately 400 feet long and can accommodate 50 to 60 guests, are also available.

Inter Yacht Charter has more than 1,300 yachts available at more than 130 locations. The firm has one of the largest accessible networks of yachts from 10 to 70 meters long.

Allied Yacht Charter has more than 25 in-house charter yachts and is capable of securing hundreds of others through a vast network of yacht chartering services. Trips are available from the coast of Africa to the island of Zanzibar. Visit the Mediterranean Sea and stop off at the Greek Isles, or take in the Caribbean or the Bahamas.

Allied's 94 Ferretti has four staterooms and a hot tub on the top deck. It accommodates eight overnight guests and up to 12 day guests.

Anchors aweigh!