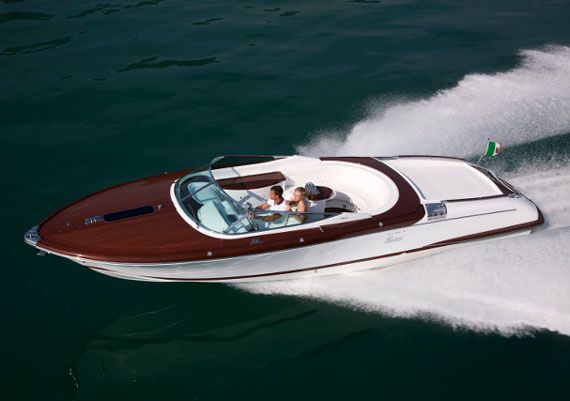 Photo Courtesy of Riva Yachts
Since the Aquariva Gucci made its splashy debut at the 2010 Cannes International Boat Show last September, it has received its fair share of attention from the boating community.
The collaborative effort by the iconic Italian
luxury brands
reeled in visitors at the Eurasia Boat Show in February. The Aquariva Gucci also made its way to Turkey's Istinye Park, the largest upscale shopping center in Istanbul in March. The exclusive 33-footer was on display for a major social event at the shopping center and then remained on display opposite the Gucci boutique for an additional three days.
The Aquariva Gucci is being incorporated into Gucci's 90th anniversary celebratory initiatives for 2011. Each yacht purchased will be custom built. While it is difficult to expand upon the brilliance of the Aquariva, the hull has Gucci's ultra-glossy white finish in combination with the Aquariva's 20-coat-veneered mahogany topping does possess a magic of its own. Keeping the original design of Officina Italiana Design intact while adding the Gucci touch was challenging for Frida Giannini, creative director at Gucci.
The Aquariva Gucci is as agile in the water as it is elegant when docked. The specially made Aquariva model has twin Yanmar Engines with 380 horsepower each that enable a maximum cruising speed of 41 knots. With an average cruising speed is 36 knots, the ship's maximum range is 150 nautical miles.
The Aquariva Gucci joins the Aquariva Super and the Aquariva by Marc Newson as one of Riva's Aquariva models. The highly acclaimed Aquariva line was launched in 2000. It is among the
best-selling yachts
in its class.
For more information, visit
www.riva-yacht.com
.