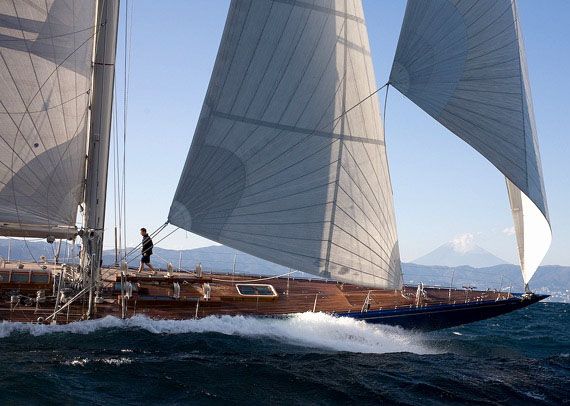 Photo Courtesy of J Class Yachts
On June 15 - 19, Newport will be home to the first competitive regatta of J Class yachts in the U.S. since the America's Cup in 1937. Among classic yacht enthusiasts the J Class is legendary.
The hallowed moniker denotes the massive
sailing
yachts designed between 1930 - 1937 for the wealthy yachtsmen who raced them in the America's Cup. The J-Class designation was an evolution of famed yacht designer Nathanael Herreshoff's Universal Rule for determining racing boats' eligibility for the Cup.
The historic occasion will see classic J Class yachts like the
Velsheda
,
Ranger
and
Shamrock V
participate in the
J Class Newport Regatta
, the first of a series of global J Class events culminating in the Hundred Guinea Cup race in Cowes next year.
The event echoes the '37 America's Cup when
Ranger
and
Endeavour II
battled for the world's most prestigious sailing trophy. Famous J Class owners included Harold Vanderbilt, Sir Thomas Lipton and King Edward VII.
Viewing stands will be set up on the Northwestern corner of Newport's famed Fort Adams and other excellent viewing options will be at Castle Hill Inn and various spots in Jamestown for the series of five races. Expect a stylish crowd and some impressive luxury cars in town for the event as well.
"We selected Newport because of the close historic ties to the J Class fleet," notes David Pitman, Secretary of the J Class Association. "We are looking forward to spectacular, close racing."