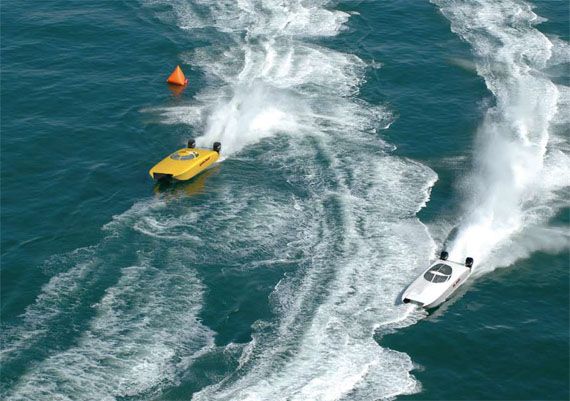 Photo Courtesy of Spire Boat
This otherworldly speedboat is a collaborative effort by Spire Boat and Thierry Mugler Studio. It will be on display at the upcoming
Monaco Yacht Show
in September. The one-off watercraft is boldly artistic, stunningly fast, and surprisingly fuel-efficient, especially for a watercraft with a maximum speed of 110 knots, which is more than 126 miles per hour.
The 31-foot speedboat has a sci-fi edginess about it despite incorporating lines that are reminiscent of the ornate fins and fenders as seen on the ornate automobiles of the 1950s into its design. The addition of the electric-powered roof distinguishes it from the regular Spire speedboat.
The cockpit is luxurious and functional. The front seats are by Recaro, and the electronics system that features a glare-resistant Garmin GPSMan 5008 color touch screen and hookups for an iPhone, an iPod, and a USB connection. The marine architectural firm, Philippe Renaudeau Yacht Design, designed the interior of the luxury-latent speedboat. The company, also recognized as PhR Yacht Design, works on motor and sailing yachts as well as other watercraft.
The design of the Spire Boat is perhaps the most unique designing endeavor by the Thierry Mugler Studio; the firm is best known currently for its design work on the Beyonce Knowles' musical tour. World-renowned recording artist and entertainer Lady Gaga modeled the Thierry Mugler's 2011 autumn/winter women's collection earlier this year in Paris.
The Monaco Yacht Show will be held at Port Hercules from September 21-24, 2011. For more information visit
SpireBoat.com
and check out the short video below to see this speedboat in action before its debut.
{start-jlvideo}684{end-jlvideo}