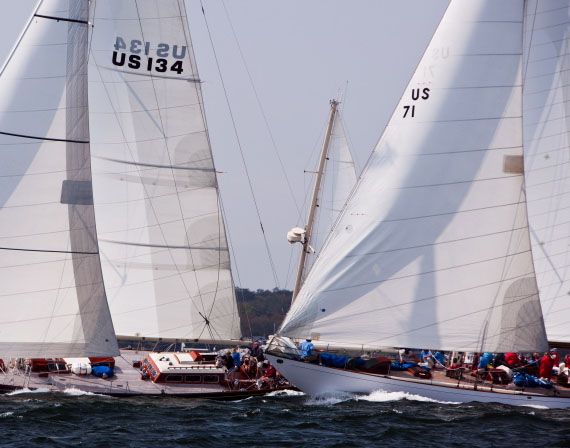 Photo Courtesy of Panerai
The Museum of Yachting (MoY) 32nd Annual Classic Yacht Regatta, sponsored by Italian
luxury watch brand
Officine Panerai, was held September 3-4 in Newport, R.I. and wrapped up the final segment of the second-annual North American Panerai Classic Yachts Challenge circuit.
Dozens of classic and vintage boats participated in nearly all of the three New England regattas which comprise the N.A. Circuit: Corinthian Classic Yacht Regatta (August 12-14, Marblehead, Mass.), Opera House Cup (August 18-21, Nantucket, Mass.) and MoY Classic Yacht Regatta (September 2-4, Newport, R.I.).
Gary Gregory, owner of
Valiant
, walked away with a Limited Edition Panerai timepiece as the overall winner of the MoY Classic Yacht Regatta, while Trevor Fetter's Sparkman & Stephens yawl
Black Watch
received the trophy for the overall winner of the North American
Panerai Classic Yachts Challenge
. Meanwhile the W-76
Wild Horses
, owned by Donald Tofias, won the circuit's Spirit-of-Tradition Division Award. 
Each boat that was first-in-class in the following categories received an heirloom-quality Panerai Barometer which was presented by Panerai N.A. President Rafael Alvarez. The class winners were:
Wild Horses
, which won the Spirit of Tradition fleet;
Valiant
took first place in the classic non-spinnaker class;
Belle
, helmed by owner Joe Loughborough, won the 6-Meter division; 
Firefly
captured the S-Boat class; and
Columbia
took first place in the 12-Meter class.