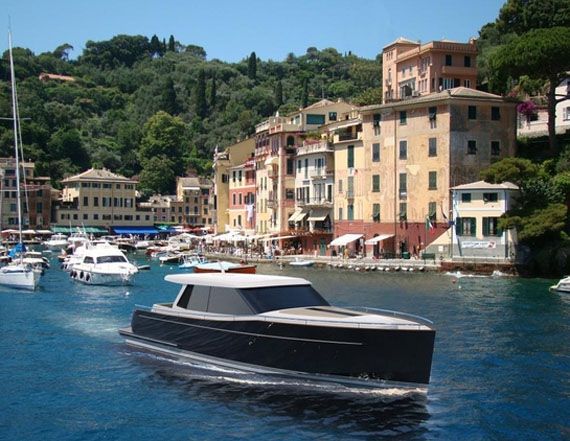 Photo Courtesy of Contest Yachts
The Contest 52MC will be the first
motor yacht
ever built by a company renowned for its sailing yachts for more than 50 years. Contest Yachts has teamed with Vripack and Wetzels Brown to launch the Georg Nissen-designed 52 footer. 
The yacht builder is confident that it will appeal equally to both sail- and motor-yachting enthusiasts. Two variants of the 52MC, a sports and a standard model, with several interior options, will be available. Delivery of the first completed yacht, which is currently under construction, is scheduled for mid-2012.
Twin Cummins Common Rail engines will power the 52MC. Additionally, there will be a hybrid model available, with two electric motors, that will keep the yacht cruising quietly up to seven knots before the main engines kick in. Contest is placing a greater emphasis than usual on minimizing engine noise and vibration by adding extra insulation to the engine room of the 52MC.
The combination of a straight bow along with a long waterline is key in minimizing vertical movement and maximizing overall stability, according to research conducted by the shipbuilder. A gyrostabilizer built by Seakeeper also will be an optional add-on for the 52MC to ensure the smooth ride associated with a Contest-built boat.
The saloon leading directly out to the ship's adjoining aft deck enhances the openness of the 52-foot motor yacht substantially. Wide side decks, a closable cockpit, and high bulwarks make the 52MC as safe as it is stylish. Plentiful headroom throughout and no steep stairs make it ergonomically friendly as well. The yacht's CE-A certification means that it meets all the requisites set forth by the European Recreational Craft Directive for long trips on inland waterways, coastal areas, and open seas. For more information on Contest Yachts, visit
ContestYachts.com
.