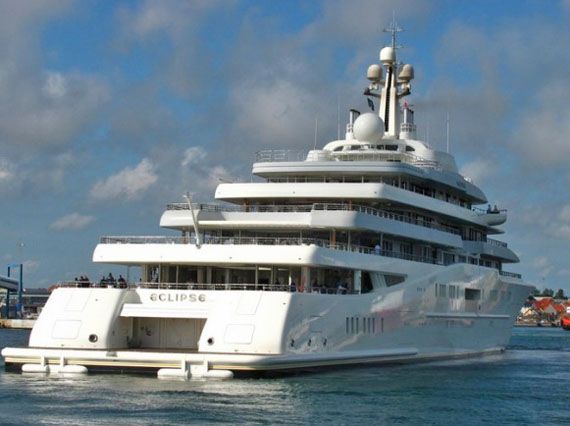 Photo Credit: Keld Gydum/SuperYachts.com
Our friends over at SuperYachts.com have been keeping tabs on the top 100 largest yachts on the seas today, and we thought our readers would like a little tour of the biggest and most luxurious top five in the group.
#1 Eclipse Motor Yacht 538 Feet
Built in 2010 by Blohm + Voss Hamburg shipyard, the
Eclipse
is a sprawling vessel that is said to accommodate 30 guests in 15 cabins and cater for an impressive 75 crew members. If that wasn't enough, there is also an exterior fireplace, room for three helicopters, a 52-foot swimming pool, and a three-man leisure submarine among other lavish amenities. With Russian Billionaire Roman Abramovich as its rumored owner, it's no surprise that the
Eclipse
is going full steam ahead in style.
#2 Dubai Motor Yacht 531 Feet
Dubai
's stunning interior, designed by Platinum Yachts, features a dramatic circular staircase with glass steps that change color, accommodations for 115 people including guests and crew members, VIP and guest suites, handmade mosaics, and lots of natural light streaming in from the top deck. The exterior contains seven decks, a swimming pool, several Jacuzzis and space for a helicopter weighing up to 9.5 tons.
#3 Al Said Motor Yacht 508 Feet
Lurssen Yachts custom built this superyacht in Bremen in 2008 and it has been impressing onlookers ever since.
Al Said
accommodates up to 70 guests and 154 crew members. The exterior styling was completed by Espen Oeino, while the interior was beautifully crafted by Redman Whitely Dixon.
#4 Prince Abdulaziz Motor Yacht 482 Feet
Maierform Maritime Technology is responsible for this opulent vessel's sleek exterior design and engineering, including an ultra-modern stabilization system which reduces roll motion effect. Built in 1984 by Helsingor Vaerft in Helsingor, Demark,
Prince Abdulaziz
accommodates up to 64 guests and 65 crew members onboard for the most comfortable experience at sea.
#5 El Horriya Motor Yacht 478 Feet
This sophisticated motor yacht (formerly named Mahroussa) was custom built in 1865 in London by Samuda Bros. and refitted in 1987. The exterior design and engineering package is the work of Sir Oliver Lang, and is made to carry up to 160 crew members to offer it's guests a relaxed yachting experience.
For live up-to-the-minute rankings and to see the full list of the current Top 100 Largest Yachts, go to
SuperYachts.com
.
Read more about
luxury yachts
and the yachting lifestyle on JustLuxe and see which luxury yachts made the cut in our
Best Luxury Yachts
.