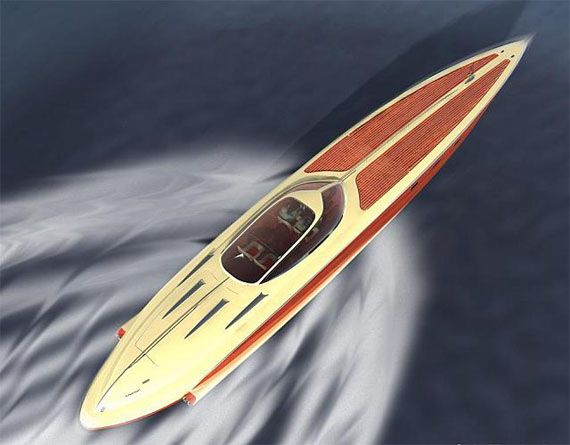 Photo Courtesy of Strand Craft
This 55-foot
luxury powerboat
, Miss Sweden II (above), is Strand Craft's ultimate water rocket. With its twin 1,500-horsepower V16 motors, the carbon-epoxy composite hull is lightweight and powerful. It is available in a sports version without a canopy and with one.
The firm's diverse products include tenders, yachts, and automobiles, which range from limos to supercars. The Strand Craft Limousine Beach Cruiser is geared toward commercial customers, such as luxury resorts, high-end rentals, and limousine-service providers.
Strand Craft's specialty is designing and building 20- to 55-foot tenders for megayachts. However, it is these superyacht/supercar combos, the SC 166 Tender and the SC 122 Tender (above), which placed the company into a prominent position in the public's eye as a
luxury brand
. 
Both automobiles have top speeds around 200 mph and accelerate to 62 mph in less than four seconds. These sports cars are bona fide supercars. The SC 166 Tender (above) has a 4.3 litter V8 engine with 510 horsepower; the quicker SC 122 is powered by 6.0-liter, 800-horsepower V12 engine. The company cites the lines of classic automobiles such as the 1957 Tesstarossa and the 1957 Corvette as being inspirational in the designing of these unique sports cars. For more information on Strand Craft, visit
Strand-Craft.com
.