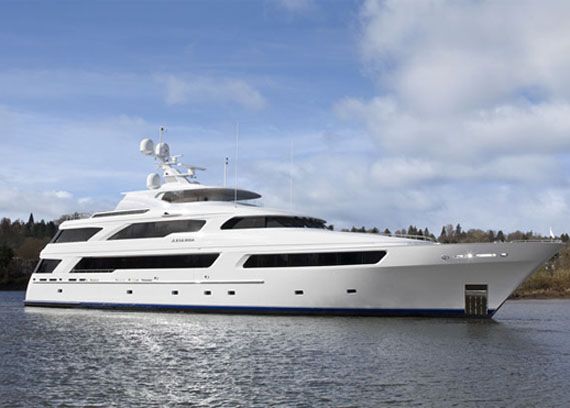 Photo Courtesy of Delta Marine
A beam of 34 feet, four, full decks, and 7,500 square feet of living area is just the beginning of the
luxury yacht
that was christened Arianna by the Delta Design Group. Her successful debut makes Arianna the largest all composite 50m, full-displacement motor yacht in the world. However, Arianna was designed with more than just size in mind. Her interior boasts a high degree of both simple beauty and elegance utilizing a variety of rare woods, such as Mascassar ebony, Koa, and Wenge. Her designers also incorporated Polynesian and Balinese inspired décor, like the solid slab dining room table, that bring a natural component to the contemporary sleekness of the vessel.
After Arianna's first
cruise
a she will become available for charter and will provide an ample amount of comforts for those wanting to make transoceanic voyages and luxury expeditions while at her helm. Arianna's unprecedented interior space has allowed room for a kingly lounge situated outside a large bedroom suite and includes a private outdoor deck, a dining area, a customizable family room, as well as an elevator to traverse all four decks.
Of the superyacht, Dovi Frances, co-founder of SG Private Wealth Advisors said, "It is exciting to see Arianna materialize and retain the original vision of her owner without compromise." He continued saying, "From the start of the project, SG Wealth Advisors has overseen all elements of the design and build process for Arianna and we are extremely excited that her owner has chosen us to manage all of her marketing efforts."
Also aboard Arianna, guests will find several outdoor areas, which include alfresco dining and lounge space shaded by a light carbon fiber bimini, as well as a large seating area on both the main deck and the sun deck. Guests will be thrilled at the yacht's entertainment capabilities as she is outfitted with a Jacuzzi tub, sunning chairs, a day head, and a large bar.
For more information about Arianna please visit
DeltaMarine.com
.