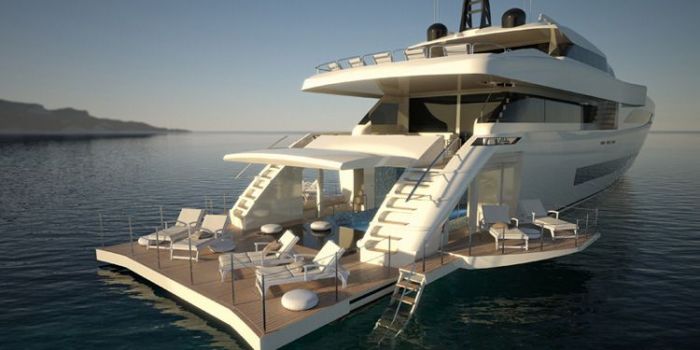 Photo Courtesy of Wider Yachts
Earlier this month the Italian company Wider Yachts revealed even more details about its brand new
luxury megayacht
, Wider 150, marking a first for the company. Having only gotten started in 2010, Wider is already known for its 42 footer and now with their larger addition, they're sure to pop up on many more radars.
Preferring to craft open cruisers, the company strives to keep up with market demands while maintaining their unique layouts and characteristics, such as their wide cockpits. lltitle=Megayacht Flexible to Your Needs### llcontent=Wider Yachts is slowly unveiling their new megayacht, marking the first foray into large vessels for the company, and it's proving to be worth the wait. With moving platforms that allow more living space and reveal a helipad and launching system, we can't wait for the final product.
Wider Yachts is led by nautical entrepreneur Tilli Antonelli, who was the founder and President of Pershing before leaving in 2010 to create Wider. "I've never liked sitting still. Nor simply standing and watching. Making do doesn't come naturally, either. Pushing thoughts a little farther, now that is something which does. No blinkers, no exceptions. In short: open-mindedness," says Antonelli.
Wider 150 isn't quite 150 feet long, but it's close enough at 148 feet. It will feature many terraces and platforms that fold out to create more space to move around. Designed by Fulvio de Simoni, there's wing-like structures on the sides near the transom that fold down to give extra lounging room while opening the sides to bring more fresh air and light to the pool, which is nearly 23 feet long. Ladders are brought out to dip within the sea, as well as a swimming platform, making water entries even easier.
One of the additions that we really like is the launching system which will the owner to easily sail in and out of the
open yacht
when they feel like using a smaller vessel to do some exploring. With the moveable platforms, it's not obvious there's a launching area even available, and it's really cool to see everything unfold in the video above. Another sneaky little feature is the car garage that can be hidden. If you don't have a little sports car to put in there, we imagine it would be a great place to store some jet skis too. Wider Yachts really put some serious planning into this vessel, considering it will even be able to accommodate a helipad.
The company has plans to customize the interior design based on the owner's tastes, according to Mega Yacht News, but they have some suggestions of their own which would integrate the outward design internally. With how well they've thought everything else out, you may want to take the company's advice. The main-deck master suite features a lounge incorporated within the bedroom, creating two living areas which can be separated via a sliding wall. There will also be four guest cabins and crew cabins, with an overall accommodation of 12 guests and 7 crew members.
Wider 150 is set for a cruising speed of around 14 mph, and is infused with carbon fiber and diesel electric propulsion, which means that the yacht can either run on battery power or diesel engines. The company says that even if other systems are engaged, the boat will be able to run on battery alone for eight hours and cover around 50 miles. It may not be enough to take a long-term trip, but it is more than enough to spend a day hopping along the
Mediterranean coast
, checking out the sights while saving you fuel and money.
The luxury yacht is being exclusively sold through Camper & Nicholsons with a price of around $26,852,000 and deliveries set for 2014.
For more information visit
Wider-Yachts.com
or
CamperAndNicholsons
.