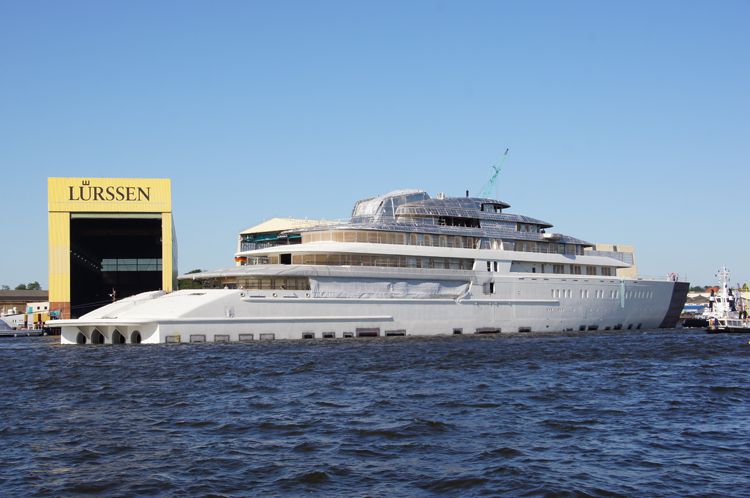 luxury yachts
floating around, each boasting their impressive facilities and size, but we may soon be seeing a vessel who may surpass the rest and take the title of World's Largest Yacht. According to Super Yachts, the new yacht is known as Project Azzam, is still under construction at Lürssen Yachts in Germany, and is rumored to be up to 721-feet-long.
The project is pretty top secret, with very little information out there, but it definitely has everyone's attention. It's apparently resting in Lürssen's floating dock while waiting for the bow to be attached. Once the bow is set up, the rest of the boat will be pieced together and since the length is still unconfirmed, it could end up being anywhere from 590 to 721-feet-long. From the looks of the video above, even half finished this yacht is definitely an impressive feat in size.
Even though the final length is undetermined, it does seem that Azzam will definitely be larger than
Eclipse yacht
, which is owned by Russian billionaire Roman Abramovich and is currently known as the largest personal yacht at 538-feet.
The identity of the megayacht's benefactor isn't yet known but it's rumored to be Saudi billionaire Prince Alwaleed Bin Talal Al Saud.
We will keep an eye out for more information on Project Azzam and keep you posted. lltitle=Biggest Private Yacht in the World### llcontent=Who can build the largest luxury yachts seems to be a popular competition nowadays and we may be seeing a new contender. Top secret Project Azzam is rumored to be up to 721-feet-long and with those numbers, will certainly get the ranking as largest luxury yacht.