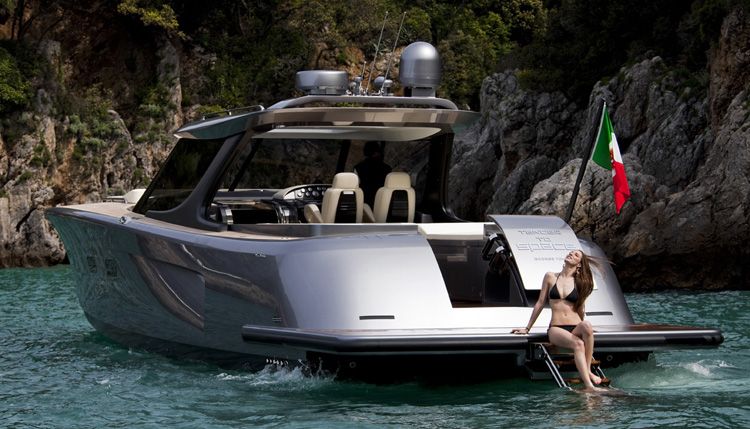 Photo Courtesy of Maxi Dolphin
Maxi Dolphin has many different types of
luxury boats
to choose from, from their powerful speed boats to their custom sail boats, but we're most interested in the MD53 Power. The day cruiser is semi-custom with many different added features that make it stand out from the rest. With a redesigned stern, the vessel gives off a very clean retro style that we can easily imagine James Cagney relaxing in.
The project was headed up by engineer Robert Starkel and works to improve the MD51 Power model, having made many alterations. Aside from the stern, the boat has an additional two feet in length, making it 52 feet long. The hardtop is made of carbon fiber and can be opened, also featuring sliding windows on the side. We love the overall exterior appearance, especially the swim platform, open air sun-bathing area with wood finish, and the cockpit that reminds us of a small private jet.
MD53 was made using SprinterR technology which, according to Maxi Dolphin, is what allows the small boat such power and lightness in weight. Due to its buoyancy, the twin 435HP Volvo Penta IPS 600 engines used are of a lower power than most in yachts of this size, which reduces energy consumption and raises the top speed (half load) to 41mph. It has a range of 490 miles and a cruising speed of 34 mph.
When venturing below deck one can find a wraparound table that is able to seat up to 12, but we're not sure why you would want that many people aboard. There's also a bathroom and a master cabin with a double bed, storage room, and seating area to relax.
The
speed boat's
interior is entirely customizable, including the layout, fabrics and materials used, lighting, and electrical devices. "According to the kind of use desired by the ship owner, we can think about different solutions, with one or two cabins, open spaces and, moreover, the possibility of adding a crew cabin," says the company. With Maxi Dolphin's concern with customer satisfaction, it's no surprise that they pride themselves on quality, not quantity.
For more information visit
MaxiDolphin.it
.