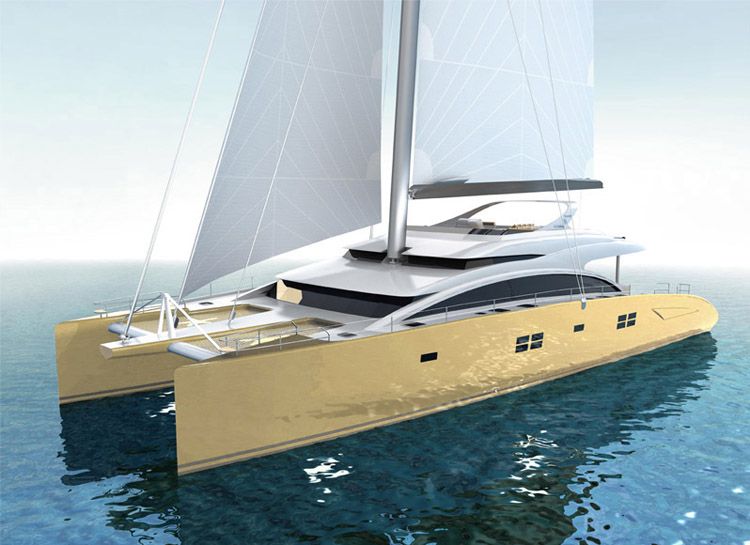 Photo Courtesy of Sunreef Yachts
The
luxury yacht
Sunreef 82 Double Deck follows on the heels of Sunreef's previously launched mega catamarans, but this one has even more luxurious features.
Built in the
Sunreef Yachts
shipyard in Gdańsk, Poland, Superyacht Sunreef 82 Double Deck is designed for private use only. The timeless design of the ship is spacious enough for 7 guests and 2-3 crewmembers. Furthermore, the forward-thinking ship uses advanced technology to save energy and fuel consumption.
Sleek hulls accent the classic look of the ship and a streamlined deckhouse topped with a giant 35m2 flybridge inspired by large superyachts. The double deck design features a spacious owner's cabin in the front as well as a salon with an internal helm station offering sea views. A new design innovation aboard the superyacht is a "mezzanine," floor on the starboard side of the main deck within the dining area.
Other luxe touches include:
A 2-story owner cabin with a Jacuzzi and vanity on the main deck, as well as a wardrobe and floor-to-ceiling storage and bathroom, which takes up much of the forward space of the main deck.
Guest cabins have 3 entryways and 6 portholes granting sea views as well as a separate bathroom and shower, spacious wardrobe, several lockers, a comprehensive entertainment system and air conditioning.
The interior décor is light and bright with a timeless classic appeal.
For entertaining guests, the 64 m2 cockpit holds a large dining table for up to 8 guests, sunbathing mats, wicker armchairs, a flower area, and storage for diving equipment. Another storage space houses a hidden jet ski, for more fun on the water.
The cleverly designed flybridge has the main helm station, bar with barbecue and icemaker, large dining table and comfortable deckchairs, as well as a coffee table.
The superyacht is currently undergoing its final fittings before sailing to the South of France for the Cannes International Boat Show in September 2012.
For more information visit
Sunreef-Yachts.com
.