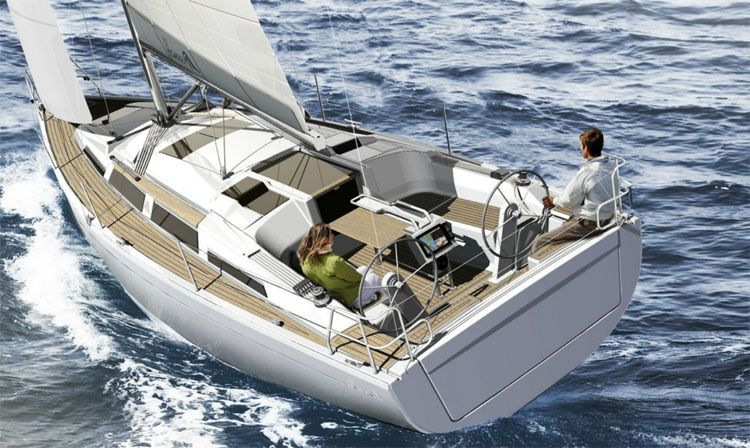 Photo Courtesy of HanseGroup
The new Hanse 345
luxury yacht
made its premier September 4th through 9th in Amsterdam at the Hiswa boat show. The 345 is a completely redesigned fast cruising boat, priding itself in areas such as design, functionality, technology, performance, and safety. The exterior design of the 345 is similar to that of the 355, but the weight of the new model is lighter, supposedly without losing any speed between the transition.
From the halyards to the reefing lines, everything can be operated from the helmsman's position, which is great for single-handed sailing. The interior design of the Hanse 345 features very spacious double cabins and a wide galley; below the deck, the companion way leads to the saloon area. The vessel's exterior features a coach roof, double steering system, and a bathing platform.
No need to worry about stability during times of high speed travel, as the Hanse 345 includes a balanced sail plan and a high performance rudder system, both of which contribute to relaxed and safe sailing. The sails themselves (both standard and the Fast Cruising Laminate Sails) come from a company called Elvstrom Sails in Denmark, which are specially designed by Danish Olympic champion Jesper Bank.
The new Hanse 345 boasts many improvements over the older 355 model, including a cockpit layout with a larger seating area, an integrated teak handrail, and more storage space courtesy of two lockers in the bow. If you were on board and had trouble seeing because of lack of light, the 345 now sports five hatches, light stripes, and more windows than previous Hanse models. You can even customize the layout, by adding a third cabin, and a convertible sliding berth/sofa.
Prices haven't be announced yet but for more information visit
HanseYachts.com