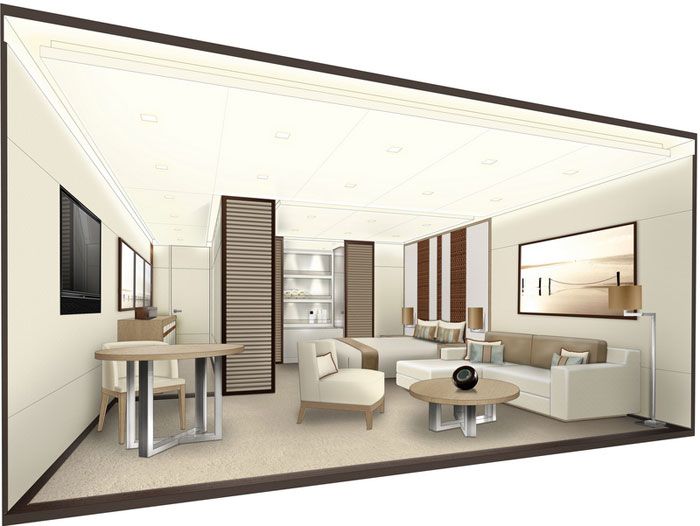 Photo Credit: NEWCRUISE
If you're under the age of 60 and have opted for a cruise as your next vacation (and it is not your honeymoon or a family reunion) then you must be a bit insane, right? Not necessarily. One of the most internationally recognized brands for luxury yacht designs and projects, NEWCRUISE, is trying to change the world of cruises forever by introducing their new 138m (443 ft)
luxury motor yacht
, Balaena.
According to Charter World, design team Roland Krueger and Katharina Raczek have managed to bridge the gap between cruise liners and yachts by offering this marvelous new super yacht on a cruise ship. This new means of travel allows for 200 guests within the comfort of Balaena's quality private yacht setting. Each liner is set to contain two VIP suites with large personal outdoor decks providing spectacular views towards the bow. The NEWCRUISE vessel will also contain 89 superior suites, each with their own personal balcony, allowing every guest to enjoy their lavish travel experience in supreme comfort.
The decks of this luxury liner will probably offer stunning views through the incredibly spacious Panorama lounge. Inside you will encounter a library and an extraordinary wellness and spa area providing relaxing and re-treatment zones great for peaceful moments spent alone. The generous entrance hall is planned on featuring a beautifully constructed open staircase and the lobby will welcome the guests and offer first class service from the moment of arrival.
The design theme that runs throughout this luxury liner is one of subtle and discreet elegance, which will allow guests to appreciate the smaller details of the ship. The artistic elements, many involving nautical pieces, plan to cleverly play with the origin of seafaring while maintaining the maturity and class of the vessel.
Lastly, what cruise would be complete without a well-stocked bar? The Balaena will be offering guests a Sky lounge, providing delicious cocktails, as well as an exquisite Champagne bar. For those that love to indulge their culinary senses, this spacious ship will also offer two restaurants and a cafe.